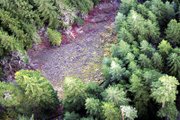 The sun was shining for the first time in several weeks, prompting many an outdoor enthusiast to hit the trails for a long overdue hike. Four of this weekend's numerous hikers ended up with unexpected adventures.
"It's all about the good weather," said Hood River Sheriff Joe Wampler, commenting on his involvement in two search and rescue missions occurring over the last three days. "People need to realize that even if it's sunny on the river, there is still plenty of snow up above 2,500 feet."
The more dramatic of the lost hiker stories began on Saturday, Jan. 22, when Teresa Collins, 30, of Portland sought out the peak of Mt. Defiance.
Collins parked at the I-84 Starvation Creek State Park lot early in the day and planned a full-day for the 14 mile round-trip hike into the steep terrain offered on the Mt. Defiance trail.
Hiking alone, Collins made the summit by mid-day and began her return downhill through the snow covered ground. At about 3:30 p.m., Collins became frightened, realizing she had entered a treacherous area, could proceed no further and was no longer sure of where the trail lay.
Using her well-charged cell phone, Collins phoned for help. Wampler at first attempted to assess her location and direct her back to the trail.
"It became clear that Collins was going to get herself into trouble trying to find her way out," said Wampler. "The area she became disoriented in is a common site for this problem when there is snow on the ground."
"She had wandered into the Warren Creek drainage area which is very hazardous with lots of places to fall," Wampler said.
Still looking for Collins as darkness set in, Wampler determined it was best to call in for a helicopter assist for the on-ground search and rescue volunteers.
"We had three people from the Sheriff's office, six Crag Rats and, after nightfall, the Oregon National Guard MEDEVAC Blackhawk helicopter and crew. They all arrived at her location at the same time."
Collins was located at about 8:30 p.m. Once the copter arrived and got into position, she was loaded onto a litter, airlifted from her ravine location and taken to Cascade Locks to receive medical evaluation by ambulance personnel.
After it was determined that Collins was unharmed, Cascade Locks Fire Chief, Jeff Pricher drove her back to her vehicle where Collins was met by her boyfriend.
Hood River County Sheriff, Joe Wampler, coordinated the search teams with assistance from long-time search plane volunteer Randy Franz.
In a second incident on Sunday Jan. 23, Wampler received a hauntingly similar cell phone call for help from a group of three hikers, also lost in the Mt. Defiance area.
"I got their call at about 4:30 p.m.," said Wampler of lost hikers Donna Regan, Louise Gilas and Jacob Korngold from West Linn, Ore.
"They also lost sight of the Starvation Creek trail in the snow - once again, a fairly common occurrence in that area."
The small group assured Wampler they would be fine to wait it out over night even though they had no sleeping bags.
"They had food and water and warm clothing," said Wampler "and the sun was already down. It's a good thing we waited because they were not where they described themselves to be. Our ground crews would not have found them."
Setting out in his search plane at first light on Monday, Jan. 24, Wampler and search volunteer, pilot Mike Cochran, spotted the group fairly far from where they thought themselves to be.
"We were able to guide this group back onto the trail once we located them," said Wampler. "They got back on the trail within a half and hour and later called us from the parking lot to say they'd arrived safely."
"Communication is essential in these situations," said Wampler, "and a GPS is especially nice if you have one with you."
Wampler also noted that people are very difficult to spot in the forest.
"It really is best if you can find a big, open space to get yourself into. That helps us a lot," concluded Wampler
The MEDEVAC helicopter unit used in Saturday's rescue is based in Salem and returned from a deployment to Iraq last January.
Supporting search and rescue missions such as the Collins incident provide Oregon National Guard units opportunities to train incoming crew members, according to Wampler.