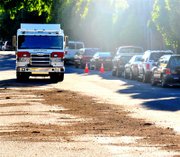 Hood River city police and firefighters responded Tuesday evening to an unusual incident on the streets of downtown Hood River. And it was, in the most literal sense, on the streets.
Sometime around 6 p.m., an unknown vehicle spilled a large quantity of cooking oil on Cascade Avenue. The oil spread about four blocks, by gravity and the tires of passing cars, before responders could close off the street and spread absorbent material over the oil.
"It was pretty obvious by the color and smell that it was cooking oil, and it was actually a pretty substantial issue," said Devon Wells, HRFD chief. "The street was very slippery; cars were sliding into intersections, pedestrians were slipping and we saw a couple cars almost slide into trees."
Wells and Neal Holste, Hood River City Police chief, confirmed that no accidents or injuries were reported from the incident. A stretch of Cascade Avenue and some side streets were closed for about three hours as a public works crew cleaned up the mess.
"We are working on a few leads," Holste said. "We know it was a pickup truck with a large container in the back of it. Our goal, if we can locate the individual, is to get that person's insurance information so we can get reimbursed for some of the costs of cleanup."
Holste noted that there is an Oregon Revised Statute (818.300) that prohibits operating a "sifting or leaking load."
"It's only a violation, like running a stop sign," Holste said. "Certainly, anyone who may have witnessed the incident or has information should call the police department." The department's number is 541-387-5256.