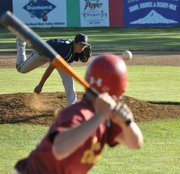 Hood River's Carson Oil Oilers won the second Firecracker Classic Tournament title after a couple of comeback wins over the weekend.
In their first game of the tournament the Oilers repeatedly fell behind to The Dalles but rallied back each time.
The Oilers tied the game in the top of the fifth when Ty Bofferding lined a two-out single down the right field line to plate a pair of runs.
Bofferding paced the Oilers at the plate throughout the weekend, reaching base 11 times in 15 trips to the plate, including six walks and two hit by pitches.
They took the lead in the sixth after an error, but The Dalles tied the game up in the bottom of the inning when the Oilers committed two errors of their own.
After that, the Oilers turned things over to Nick Weekly - both at the plate and on the mound.
In the top of the seventh, Weekly led off the inning by launching a Dakota Walker pitch over the right field wall to give the Oilers a 7-6 lead.
Weekly then took over from Lucio Alaniz in the bottom of the inning and pitched a 1-2-3 frame to get the save.
The Oilers didn't slow down from there. They beat Newport 9-2 Saturday, and routed Barlow 14-2 in Sunday morning's semi-finals.
The win over Barlow sent them into the championship game against a Washougal team featuring a college freshman and several graduated seniors.
Washougal tied the game with a pair of runs in the sixth inning, but the Oilers then loaded the bases with one out in seventh and won when Ryan Colesar was hit by a pitch to force in the winning run.
"We had three really good starting pitching performances," Oilers coach Erich Harjo said of what keyed the team the tournament win.
Lucio Alaniz struck out eight against Newport Saturday and Cody Walker followed that with a complete game against Barlow with eight strikeouts. Gabi Nunos took the mount in the championship and struck out six over five innings before handing the ball to Weekly for the final two frames.
The Oilers now return to Junior State Division 1 play. The team played at David Douglas Tuesday. They host Horizon Christian of Tualatin July 6 and play at a tournament in Newport Friday through Sunday.
The Oilers then play all of their remaining games at home beginning with a July 12 doubleheader against Cleveland.