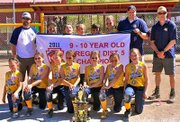 One Hood River Little League team has qualified for the state tournament and two more were going to find out Friday if they, too, would get the chance to play for a district championship.
The 9-10 softball team claimed District 5 championship Tuesday with a 24-0 win over Columbia.
The victory capped a three-game tournament in which Hood River outscored its opponents 66-1.
"Overall the girls did a really good job," coach Ryan Munn said.
Hood River opened the tournament by beating Columbia by the same score from the championship game, 24-0, and then beat Warm Springs 18-1 before facing Columbia again in the championship.
They now advance to the state tournament in Eugene, which gets under way July 23.
The Hood River 9-10 and 11-12 baseball teams were set to play in the semifinals of their divisions Friday for a shot at the championship.
On Thursday the 11-12 team used a late home run binge to put away Sisters 29-6. Morgan Williams, Bradley Moe, Wyatt Mansfield, Adam Cameron and Conner Coerper all went deep for Hood River.
Hood River's win over Hermiston the previous day was significantly closer; 8-7 in extra innings. Coerper hit a home run and pitched five innings to get the win in that game.
They were to play Bend North Friday with the winner of that game facing Bend South in the championship Saturday morning.
The 9-10 team blasted Bend North 21-0 behind Andy Carloch and Isaac Beamon home runs to move on to the championship series.
Hood River will face The Dalles in the championship. The Dalles beat Hood River in extra innings in the opener for both teams, but Hood River then bounced back to roll to five straight wins in the losers bracket for the rights to face The Dalles again.
With two wins over The Dalles Friday, the team would move on to the state tournament in Gresham.
Even before they put 21 runs on the board against Bend North, they had already joined their 9-10 female counterparts in outscoring their opponents by 50-plus runs, beating their four prior opponents in the losers bracket 76-4.
The Hood River 10-11 baseball and 11-12 softball teams were both eliminated earlier in the tournament.