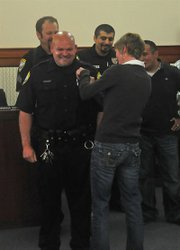 Neal Holste did not have to wait long to have the "acting" removed from the front of his police chief title.
Holste was promoted to full chief by Hood River City Manager Bob Francis Monday, a move which was confirmed by the Hood River City Council during its meeting later that night.
Holste was named acting chief after the city placed on administrative leave, and then fired, Bruce Ludwig in May.
"I think he will do well for the department and for the citizens of Hood River," Francis said. "He cares about everyone he deals with."
Present for Holste's swearing in were his family and a large delegation from the Hood River Police Department.
"They wanted to stand together and are wanting to move ahead," Holste said. "That wasn't just voiced by me; it was voiced from the department."
His wife, Amanda, pinned the chief's badge onto his uniform following the swearing-in by Mayor Arthur Babitz.
Francis first raised the possibility of promoting Holste to permanent chief during the last city council meeting, but the council asked to be able to interview Holste separately before a final decision was made.
"It was intense but good," Holste said of the process.
Babitz said the council came away from the interviews uniformly satisfied that Holste was the right man for the job.
"I was impressed with his qualifications and his experience ... I'm satisfied he knows how to keep the department together and to keep morale up," Babitz said.
Holste joined the Hood River Police Department in 1996 after two years with the Hood River County Sheriff's department.
Holste enters a department with an uncertain future ahead of it as the city continues discussions with Hood River County about contracting out law enforcement responsibilities with the sheriff's department.
"I've got the support of the department overall and when I took this position they knew I was running for sheriff," he said.
Holste announced a campaign for sheriff earlier this year and Francis said he could still run for sheriff if he so desires.
"If he becomes sheriff we'll cross that bridge when come to it," Francis said. "I think by then we'll have a good idea of where we are with the county."
Holste said he still intends to run for sheriff, and said his experience as police chief would be good no matter what happens with the department in coming years.
"I'm going to run this as a long-term goal, a place I want to retire from," Holste said of the police chief job.
Holste said he wants to make himself available to the department and to the public in his role as chief.
"I'm just excited to get going," he said. "I have an open-door policy for anyone that wants to come in and talk. I want to be available and transparent."
In other news from Monday's council meeting, a long-discussed proposal to re-align Country Club road is set to move forward.
Francis said the city was recently approached by Key Development, which owns developable property in the area which would be accessible with the re-alignment of the road.
ODOT estimated that project would take around $6 million to complete, whereas only $3.5 million ($3 million in ODOT funds transferred from the Button Intersection project and $500,000 from the city) had been allocated for the project.
Key offered to do the project at $3.5 million.
The council voted to move forward on Key's offer and a public hearing on the proposal will be held July 25.
Hood River Fire Chief Devon Wells gave a presentation in response to the Oregon Department of Forestry Forestland reclassification hearing last month.
At the meeting the ODF stated that it would not classify lands within Hood River city limits as forestland.
However, Wells said he found several large swaths of land, primarily owned by the city and public utilities, that he felt should be classified as forestland. The council authorized him to make a statement at the ODF public hearing in Pine Grove July 12 to that effect.