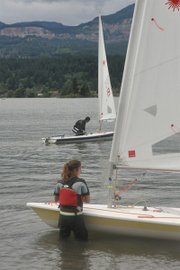 CASCADE?LOCKS -- In the Columbia River off Cascade Locks dozens of the some of the best up-and-coming young sailors from around the West Coast learn how to improve their skills at the Columbia Gorge Racing Association's annual wind clinic.
Many of the sailors come from Seattle, as does head instructor Ben Glass. Many more come from California. A smattering are from Portland. A few come from Cascade Locks.
Yes, you read that last sentence right.
After spending years rising in the esteem of the national sailing community and attracting top-notch sailors from across the globe, the town has a few rising stars of its own on the water.
William Choi, 16, and MaKenna Sullenger, 15, have both been sailing for about five years.
They both picked up the sport in different ways.
Choi first caught the bug when several sailors came into Cascade Locks school and talked about the sport. He got interested and started looking more into the sport.
"There is no other sport that I'm really good at besides sailing," he said. "I started from zero with no experience at all."
Sullenger got dragged to a CGRA open sailing night by her parents despite not having any interest in sailing.
That soon changed.
"I had never been out in a sailboat before," she said. "I went out on the water with a really nice lady and we sailed forever."
Like Choi, she was hooked.
Since their first sailing experiences they have both gone through numerous youth sailing programs through the CGRA and neither have any intent on letting their passion for the sport slacken.
Choi would like to continue racing in college and has his sights on an Olympic tryout in the future.
Sullenger would also like to keep racing in college. In fact, she's rather particular about it.
"I'm looking for colleges and my one criteria is that it has to have a sailing program," she said.
Both sailors started with zero experience at all; yet here they are five years later hanging with some of the best young sailors around.
"It's like learning to walk," Choi says. "First you have to learn how to crawl and then you learn how to walk. It takes many days of hard work."
However, the pair does have something of a home field advantage when the 40 sailors in the clinic hit the water.
Most of the other sailors are used to being on the water in lakes or sounds that have fairly calm waters and maybe 10-knot winds.
In the Gorge, the winds can routinely hit over 20 knots and the currents on the river caused by unusually high waters can make things tough.
"It's an extreme spot," Sullenger said.
It may make for some challenging sailing conditions, but that's what Sullenger and Choi both love about the area. They intend to pass that love on to future sailors as well. Sullenger's younger sisters have already taken up sailing, and both help out coaching at youth sailing clinics.
"More kids are starting to do it here," Choi said. "This is the best place to sail because we've got good wind."
Sullenger said she and other young sailors in Cascade Locks would like to see sailing be more than fad. They want to see it become a social activity, a sport that the youth of Cascade Locks can continue to love.
"We don't want to see it die," she said. "We want to keep bringing in kids."
Both Sullenger and Choi will be sailing in the WIND Regatta this Saturday and Sunday. The race is the third event on the 2011 Northwest Youth Racing Circuit and will also serve as the Area L semifinals for the 2011 Chubb U.S. Sailing Junior Championships for the Smythe Trophy in the Laser Radial class. It will be the first regatta for both in lasers. Racing begins at 10:30 a.m. Saturday and 9:30 a.m. Sunday at Cascade Locks Marine Park.