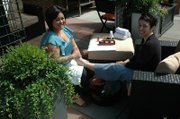 Hood River draws outdoor lovers from all walks of life. Salon Visio owners Stan Aaberg and Jim Entwhisle have created a salon and spa experience designed specifically to appeal to that audience at their 708 Oak St. salon.
Opening just this month, Salon Visio's new outdoor service patio - sporting fabulous river and Gorge views - welcomes the tired, stressed and world-weary alike into a luxurious and relaxing outdoor living room where pedicures, manicures, massages and other special beauty experiences are available.
Sit awhile at the Zen pebble garden and stone fountain area. Lounge in front of the outdoor fireplace. Shelter in the shady safari-like cabana area. Bring along your friends.
That is the message behind the business concept, developed by Entwhisle and Aaberg, for this new venue, which entices beauty salon clients and others looking for a unique outdoor space in which to share an intimate experience of pampering.
The salon has been in business for more than 10 years and was previously located at 310 Oak St., originally starting out in The Dalles. Now, with the outdoor space, Visio has again pushed its profile higher.
"We can provide up to four salon service providers in the outdoor areas," said Entwhisle. "We also hope to have people rent the space for parties - birthdays, showers, pre-wedding get-togethers - with or without stylist services."
The idea is to expand the use of the beautifully designed outdoor spaces for events and gatherings beyond the standard salon visit.
"We can easily cater to 20 or 25 people in the outdoor space," said Aaberg, "and we can bring things indoors if needed." Parties would be able to bring in their own food or work with staff to arrange for catering.
While the outdoor space is alluring and new, the treats for the senses indoors are just as exotic - massage rooms, the chromo-therapy wash area, aroma-therapy room, customized make-up design, pre-wedding services and the 'indulgent' facial experience.
Meanwhile, guests can enjoy a thirst-quenching libation courtesy of the salon at every visit, served from the view-backed "color bar" and where you can also watch your stylist craft your custom hair color.
"It's just very relaxing to come here. I get a good haircut and a massage. My husband comes here for haircuts, too, and to enjoy the free drink," said Mara Lynaugh, a regular customer who also brings her 3-year-old daughter Teagan for haircuts.
The soothing outdoor music combined with free Wi-Fi encourages guests to stay and relax. The fire pit area offers comfy couches to augment the view across the river.
Free onsite parking ensures you can enjoy the facilities without fighting traffic or battling for a parking spot even on the busiest weekend. Oh, and there is a fenced dog run for those needing to bring Fifi along.
The salon is open Monday through Saturday starting at 10 a.m. Closing time is at 2 p.m. Mondays, 8 p.m. Tuesdays and Fridays, 6 p.m. Wednesdays and 4 p.m. Saturdays. Private party rental hours are arranged as needed.
For more information or appointments contact Spa Director Jennifer Eby or any staff person at 541-387-2566.