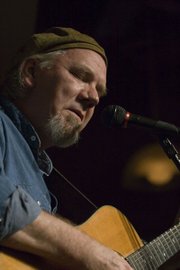 Tess Barr at Double Mountain
The Tess Barr Blues Band will be at The Double Mountain Brewery on Saturday, June 4, starting at 9 p.m. featuring Tess Barr on vocals, Patrik Barr on guitar, Mark Wagoner on bass and Bob Hagan on drums. Bring your dancin' shoes! Double Mountain Brewery, 8 Fourth St., Hood River; 541-387-0042.
Relay for Life fundraiser concert
There will be a concert and ice cream social to benefit Relay For Life, the American Cancer Society fundraiser, on Saturday, June 4, at the grange in White Salmon (1085 N. Main Ave.). Music provided by The Gorge Fiddleheads from 2-4 p.m. Donations accepted at the door.
Spring Fest happens June 3-5
The annual White Salmon Spring Fest is this weekend with a full lineup of entertainment on the Park Stage. The Grand Parade is Saturday at 11 a.m. Other events include the Gorge Cruiser Car Show, 3 on 3 Basketball, and a Zumba workout party. Free admission.
Friday, June 3 6 p.m. - Youth Talent Show 8 p.m. - Unwound (Country)
Saturday, June 4 Noon - Harmony of the Gorge & It Takes Four 1:15 p.m. - Columbia High School Jazz Band 2:30 p.m. - Trio Bravo 4:15 p.m. - Ben Bonham Trio 5:15 p.m. - Tess Barr Blues Band 7 p.m. - Scarlet Thistle Belly Dancers & Ellen 8 p.m. - Phoenix (Rock)
Sunday, June 5 11:30 a.m. - White Salmon Jazz Band 1:15 p.m. - Barley Draught (Irish) 2:30 p.m. - Buck Smith & The Connollys (Western)
Book releases, author signings
Waucoma Bookstore in Hood River is hosting a book release event on Friday, June 3, from 5:30-6:30 p.m. New and returning writers from the Gorge Literacy program will be signing copies of "Shared Voices - 10th Anniversary Edition." A program of Columbia Gorge Community College is an opportunity for beginning writers to become published authors. It's a "dare to share" activity with the hope that new writers will bridge the gap of uncertainty and fear in submitting their writing for publication. There will be an author reception for Miralee Ferrell from 5-8 p.m. "Love Finds You in Tombstone, Arizona" is Ferrell's latest effort. When Christy Grey receives an urgent summons to Tombstone, Arizona, she reluctantly leaves her new life in California. The trip goes from bad to worse when three masked men hold up Christy's stage. She finally arrives in Tombstone to find her mother ill and her brother trapped in a life of gambling. Desperate for money to support her family, will Christy bow to pressure from the local saloon owners and return to the life she thought she'd given up for good?
Eric Taylor returns June 8
Texas singer-songwriter Eric Taylor returns to The Dalles Civic Auditorium for a special concert on Wednesday, June 8, at 7 p.m. Tickets are $15, available at Columbia River Music. Taylor's most recent CD, "Hollywood Pocketknife," has garnered critical acclaim around the world. Shortly after its release, the CD was nominated for FolkWax Album Of The Year and Artist Of The Year. "Peppercorn Tree," one of the album's most-requested tracks, was featured in Sing Out!'s summer issue and 20-song sampler CD. Lyle Lovett recently included Taylor's song "Whooping Crane" on his Natural Forces CD, and the song was featured in an episode of the ABC TV series "Brothers & Sisters."
House concert scheduled June 1
Aaron Keim, a member of the band Boulder Acoustic Society, has played at both Families in the Park and the Gorge Ukulele Festival. Keim is performing a house concert at 401 Montello, Hood River, on Wednesday, June 1, at 7 p.m. Aaron Keim cites Cormac McCarthy, the Brothers Grimm, Tom Waits and Woody Guthrie as main influences, and has reportedly recorded his last album on wax cylinder. For more information call 541-387-4011.
Entertainment listings can be e-mailed to jdrake@ hoodrivernews.com