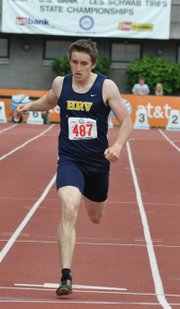 For an entire year, Ian McNaughton had been waiting for this moment.
He got a taste of the thrill of state competition last year when he finished 11th at the 6A level in the 400-meter dash while battling the flu. The next week he won the event at the Oregon Elite Championships race.
For the next 12 months he trained with the goal of showing the Hayward Field that he was better than an 11th-place finisher.
He competed in events over the summer, and then ran in indoor races during the winter. By the time spring came around, he was the clear favorite to win a middle distance state championship, with top times in the 200- and 400-meter races.
He lived up to the expectations Saturday when he won the 5A 400-meter state championship with a time of 49.41.
Not only did the time get him a state gold medal, it topped his own school record, which he had set just the day before when he ran a 49.84 in the preliminaries.
"I didn't want to lose," he said about what motivated him to train through the winter for his second chance at the event.
When asked how long he had been thinking about getting atop the medal stand since his trip to Eugene last year the response was blunt: "The whole time."
McNaughton led wire-to-wire in the event but had to hold off a hard-charging Will Lawrence of St. Helen's down the stretch.
Lawrence repeatedly challenged him for the lead, but McNaughton had enough left in the tank to fly through the finish line a tenth of a second ahead of Lawrence.
He came into the event with the best time in the state in the 400 and knew he would have a target on his back at the start of the race.
"I was nervous right before the race," he said. "But then we came out and I calmed down."
Later in the day he had a shot at a double championship when he ran in the 200-meter dash.
He wound up fourth in the race with a time of 22.67 as his legs, which had already run the 4x100 relay and the 400, began to tire.
Still he was grinning from ear to ear as he stepped off the medal stand.
How could he not be? He wasn't sick and he had the state championship medal he had dedicated the last year to winning, plus a school record in the 4x100 relay and a second top-five medal for the trophy case.
"I'm stoked," he said. "I really wanted the 400; this was a perk."