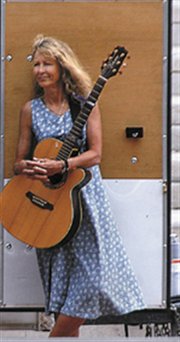 Country Dance June 11
Enjoy an evening of country square dances, Contras, circle dances and a few waltzes at the Country Dance on Saturday, June 11, from 7-10 p.m. at the Rockford Grange in Hood River (4262 Barrett Drive). The dance caller will be Caroline Oakley from Portland and the band will be the Fiddleheads String Band. Dance lessons will begin at 7 p.m. All ages welcome. No partner required. Family friendly. All dances walked through first time. $6 for members, $7 for non-members, $1 for youth 16 and under. Please bring snack treats for break time. Call Keith Harding at 541-352-7550 or Tom Hons at 541-386-5771 for more information.
Nancy Cook plays June 11
Singer-songwriter Nancy Cook plays diverse acoustic music all over the U.S. Critics say her latest CD "Focus," is Nancy's newest original music, with great songs that are well recorded and produced. Catch her at the Thirsty Woman Pub in Mosier, Saturday, June 11, from 7-9 p.m. Visit www.picklehead.com/ nancy.html for more information.
Ascetic Junkies at Cebu Lounge
On Friday, June 10, the Ascetic Junkies debut at CEBU Lounge. Music starts at 9:30 p.m. "Mixing bluegrass and pop with a punk sensibility, the Ascetic Junkies are one of the first bands to reinterpret bluegrass into something new and totally exciting. On the band's sophomore album, "The Cage Has No Bottom," the Junkies use genres like a game of four square, jumping from more traditional bluegrass to straight pop and more experimental flair, sometimes in the middle of the same song." Best Western Hood River Inn, 1108 E. Marina Way; 541-386-2200.
Lecture on ice age floods at Maryhill Museum
Researcher and author Bruce Bjornstad speaks at Maryhill Museum of Art on June 11, at 3 p.m. about the cataclysmic events that shaped the region. His newest book is "On the Trail of the Ice Age Floods — The Northern Reaches: A Geological Field Guide to Northern Idaho and the Channeled Scabland."
Beth Wood at The Pines
There's a full slate of music and more at The Pines in Hood River this week. Join Kerry Williams and Crew every Thursday from 6:30-9:30 p.m. On Friday, June 10, it's singer-songwriter Beth Wood, from 6:30-9:30 p.m. "Beth Wood is a modern-day troubadour with a stunning, versatile voice, poetic lyrics, and a strong guitar style. Beth's music is soulful, organic, intelligent, barefoot, high-energy communication of joy."
On Saturday, June 11, relax to the smooth musical stylings of Henry Schifter. Singing a variety of songs in English and French, Henry will transport you to the banks of the Seine. Music is from 6:30-9:30 p.m.
On Sunday, June 12, it's an afternoon dance party with "Swango" — that's Swing plus Tango at The Pines! Swing your way around the dance floor from 3:30-6 p.m.
Entertainment listings can be e-mailed to jdrake@hoodrivernews.com