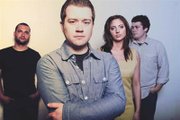 Current Swell plays Wind Fest
Current Swell is a new roots/surf rock group from British Columbia comprised of avid cold water surfers who are leading the new roots movement developing on Canada's west coast. The band has toured internationally including Hawaii, Indonesia and Australia and played shows with the Beach Boys, Bedouin Soundclash, Xavier Rudd and The Beautiful Girls. The band just released their third album "Protect Your Own." Hood River's Wind Festival happens June 25 and Current Swell headlines the music stage. Check upcoming editions of the Hood River News for more details.
Tango Alpha Tango at CEBU
CEBU Lounge brings music to the stage this weekend with Tango Alpha Tango – funky, bluesy indie pop on Friday, June 17, at 9:30 p.m. "You could argue that Tango Alpha Tango's sound is the most seductive thing to come out of Portland since Elliott Smith crooned, "Sexy energy makes me charming when I sing." But instead of bated breath and acoustic guitars, Tango relies on slinking bass lines and lyrics so enticing they feel like they're being whispered in your ear during a slow dance." On Saturday, June 18, it's the synth-guitar-drum indie-rock of Finn Riggins. Critics say "The best band of the day was Hailey, Idaho-based Finn Riggins, a guitar, synth and drum combo that plays pulsating, anxious post-punk that has an arrestingly ramshackle quality to it."
Counting Crows added to Maryhill Winery concert lineup
Tickets are on sale now for Maryhill Winery's 2011 summer concert series at the amphitheater. General admission and reserve seating is available for each show. All ticket sales are online only (www.maryhillwinery.com) and additional service charges apply. Gates open at 5:30 p.m. and show starts at 7 p.m. July 30: Classic rock bands YES & STYX Aug. 6: Gipsy Kings Sept. 17: Michael McDonald & Boz Scaggs Sept. 24: Counting Crows
Original One Acts June 22, 24
Come join Columbia Center for the Arts for two nights of staged readings of one act plays by local playwrights on June 22 and 24 at 7:30 p.m. Veteran CAST theater actors bring these plays to life in our theater. This diverse group of staged readings will include a thriller, a play within a play, drama and comedy. This event is free to the public as part of the 5 year anniversary celebration "Get Centered!" The following local playwrights were selected for this special event: Glenn Harris, Gary Young, Andy Bell, Lisa Roth-Baisden, Tom Burns and Lou Marzeles.
Carpenter at HR Hotel
Carinne Carpenter makes her debut on Friday, June 17 playing from 6:30 to 8:30 p.m. in the lobby at the Hood River Hotel. She is a songwriter and guitarist with a twist of country, Americana and roots music. Visit www.carinnecarpenter.com for more information.
Richard Wilkins at The Pines
There's a Father's Day blues dance party at The Pines in Hood River on Sunday, June 19, with the Richard Wilkins Blues Band from 4-6 p.m. This local 5-piece band specializes in Chicago and swing blues. Free admision.
Gorge Jazz concert June 18
The Mt Adams Chamber of Commerce 2011 Concerts continues on Saturday, June 18, with the Big Band sound of The Gorge Jazz Band — an 18-piece group that has created a wide array of music spanning the last 80 years. Johnny's Gorge Swing Dancers will also entertain. Concerts will be held at White Salmon's Rhinegarten Park (N Main and Lincoln Streets) from 6 to 9 p.m., rain or shine. Free admission. Visit www.whitesalmonevents.com.
Ultronz at Everybody's June 17
The Ultronz performances and CDs feature music with a rock, Ska, power-pop, and reggae influence along with an original "Astro-Surf-Sound." The songs were primarily written by the two most enduring artists in the band, Eugene Gray and Jeff Smith. The Ultronz achieved popularity with wind surfers and surfers around the world with their raging, slam dancing style and since 1987 they have produced five albums. Music starts at 9:30 p.m. Everybody's Brewing, 151 E. Jewett Blvd., White Salmon, Wash; 509-637-2774.
Tillinghast at Brian's June 17
Folk musician Richard Tillinghast will be playing a regular show at Brian's Pourhouse in Hood River on the third Friday of the month. Join Richard with guitar, banjo and Tova Cochrane on cello from 7-10 p.m. Brian's Pourhouse, 606 Oak St., Hood River; 541-387-4344.