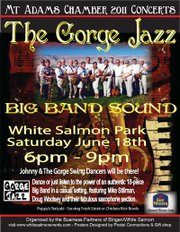 Victor Johnson at Bambinos
Kids musician Victor Johnson will be at Bambino's in Hood River (220 Clearwater Lane) for a family music event to celebrate his new CD on Saturday, June 25, at 11 a.m. Victor will be playing music featured on the new Putumayo CD "Acoustic Dreamland," as well as a variety of other music. Kids of all ages are invited to this event. This music event is free and open to the public. The CD features Parents' Choice award-winner Victor Johnson's reassuring "Everything Is Going To Be Alright," while widely acclaimed Smithsonian/Folkways children's recording artist Elizabeth Mitchell lends her beautiful voice to the Allman Brothers' "Blue Sky." Victor Johnson has appeared in national television, NPR and Nick Jr and Parenting magazines. He has three Parents' Choice Awards and appears on Putumayo Kids' CD "Folk Playground."
Catch Spruce & Raven this summer
There's acoustic roots music from Spruce Baugher & Raven Indawood every Wednesday at the Red Carpet Inn in Hood River from 6-8 p.m. No cover charge and music is out on the patio. On Saturday, June 18, the duo will be at the Rivertap Pub in The Dalles from 7-10 p.m.
Bellydancing, hula hoops, music
Celebrate Summer Solstice all weekend long at Solstice Wood Fire Cafe in Bingen with live bellydancing on Friday night 7:30 p.m. There will be a hula hoop workshop on Sunday with Stacey "Hoop-Love" Shaw from 2-4 p.m. Enjoy Monday night live music with guitarist Joel Valle. 415 W. Steuben St. Bingen; 509-493-4006.
Authors visit HR June 18
Oregon author Keith Scribner will be discussing and signing his new book "The Oregon Experiment," on Saturday, June 18, from noon to 2 p.m. at Waucoma Bookstore, 212 Oak St., Hood River. His new novel is about an East Coast couple who become increasingly entangled in the political and emotional lives of Oregon radicals. Scribner is the author of two previous novels, "Miracle Girl" and "The GoodLife," a New York Times Notable Book.
Author Nick Johanson will be signing his book "The Green Fallacy" on Saturday, June 25, from noon-2 p.m. "The Green Fallacy" is about using logic and common sense to tackle the many fallacies associated with manmade global warming and environmentalism. These days, environmentalism is more about emotion than truth. Rather than using supporting evidence, environmentalists relentlessly appeal to the public's emotions, trying to lure you in with pictures of cute, fuzzy polar bears and evil, devastating hurricanes. "The Green Fallacy," will take a long, hard look at the many holes in the issue of manmade global warming.
'Meet the Brewer' June 22
Come "Meet the Brewmaster and the Beer" on Wednesday, June 22, from 5-6:30 p.m. when Full Sail will release its new Brewer's Share Beer, Jimvar Bohemian Pilsner, brewed by Jim Kelter. A portion of the proceeds supports the FISH Food Bank. Full Sail Tasting Room and Pub, 506 Columbia St., Hood River; 541-386-2247.
Scepters play The Pines
If you missed Matt Brown's first visit to The Pines, you really missed out! This Portland singer/songwriter transports you with his smooth vocals and rich guitar sounds. Friday, June 17, 6:30-9:30 p.m. Having played the tasting room once before, The Pines is excited to have The Scepters back. Wondering who they are? The band dates back to 1965, having learned to play after watching The Beatles on Ed Sullivan. The years passed, and the four-man group got together again to play their high school reunion. Having had such a blast, they decided to keep playing. A funky blend of "surfer jam with English-invasion at Woodstock" sound, The Scepters are sure to be a great night. Saturday, June 18, 6:30-9:30 p.m. The Pines Tasting Room, 202 State St., Hood River; 541-993-8301.
Saunders at Naked Winery
Friday, June 17, 4-7 p.m. Kit Garoutte — When it comes to finger-style jazz guitar Kit Garoutte is a guitarist worth listening to for jazz, pop, classical, blues, R&B, folk, funk, rock, and new acoustic .
Saturday, June 18, 7-10 p.m. Sandy Saunders Band — Combine Sandy's country-rock roots from Augusta Georgia and the rockin blues of the Pacific Northwest, it explains why Sandy is bringing crowds to their feet where ever they play.
Sunday, June 19, 4-7 p.m. Swing Crew — Swing Crew consists of Linda McAllister, John Durkan, Mike Stillman, Paul Viemeister and Dennis Harvey. They play danceable swing, blues and popular hits of all eras.
Monday, June 20, 7-10 p.m. Spruce Baugher — Hood River's local "Gpysy Balladeer" Spruce, will be laying down some Oregon acoustic folk roots music along with a mix of other local musicians.
Tuesday, June 21, 6:30-8:30 p.m. Jazz at Naked Winery — featuring Chic Preston, Ryan Kolberg, and Mike Stillman play jazz, funk, soul, pop, swing and shuffle blues. Come dance with us!