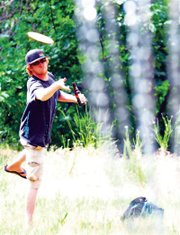 Former police chief cites wrongful termination as reason for suit
Bruce Ludwig plans to sue the City of Hood River for unlawful termination.
"Mr. Ludwig intends to pursue claims for damages against the city and its individual representatives," wrote his attorney, Dana Sullivan, of Portland, in a June 14 certified letter to City Manager Bob Francis, who on May 27 fired Ludwig after six years as police chief.
A copy of the letter was provided to the Hood River News by the city's attorney, Dan Kearns, of Portland. Kearns declined comment on the letter, other than to say it is "the first step" in what could be a long process.
Francis and Mayor Arthur Babitz have been instructed to make no comments relating to Ludwig's dismissal, Kearns told the Hood River News in an email Wednesday.
Sullivan's letter asserts that "as a consequence of the City of Hood River's wrongful discharge of Mr. Ludwig, he has suffered and will continue to suffer economic damages, damage to his professional reputation, emotional distress, embarrassment and humiliation."
In the letter, Sullivan stated that "Mr. Ludwig intends to assert a claim against the City of Hood River, against you individually, and against one or more members of city council to seek compensation for the harm caused him by the City of Hood River's unlawful actions."
Under state law, complainants must first give notice to the jurisdiction that they intend to sue; the suit itself must be filed within two years.
Sullivan was unavailable for comment.
Sullivan's letter cites the May 24, 2011, letter sent to Francis advising him of the reasons she believed termination of Ludwig's employment would be unlawful. Francis had placed Ludwig on administrative leave for two weeks on May 12, and fired him on May 27. On May 23, city council voted to give its consent to Francis' firing of Ludwig.
The only reason Ludwig said he was given for his leave was that Francis and Ludwig had "management goals and philosophies" that could not be bridged. Francis has declined to elaborate on the decision, even prior to Kearns' no-comment instruction, in light of being a personnel matter.
Francis said he told Ludwig on May 12 he had until May 27 to demonstrate that Ludwig and he could come to terms, but that Ludwig offered him no new information in their May 27 meeting, leading Francis to fire him.
Ludwig said, "I'm just disappointed that I was not given some opportunity to know the reasons something was wrong with my performance, and to take whatever corrective course might be necessary."
He said his last employment review, in June 2009, was "a good one." Francis did not do an employment review of Ludwig in 2010, though city policy dictates it be done annually.
The acting Hood River Police chief is Sgt. Neal Holste, who announced in May he will run for county sheriff in 2012. Ludwig announced earlier this month he plans to run for sheriff, and said he plans by next week to form a candidate committee that he will register with the Secretary of State's office, a prerequisite for election fundraising.