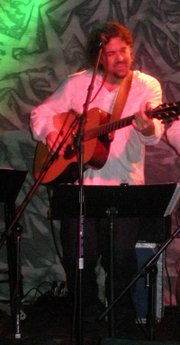 'Banjo Killers' at CEBU June 24
CEBU Lounge features local singer and guitarist Cameron Ferguson — entertaining audiences with his takes on popular tunes from the 60's through today. He covers everything from The Beatles to Pearl Jam and Jack Johnson to Bob Dylan. Thursday, June 23, 8 p.m.
On Friday, June 24, at 9:30 p.m. it's the Banjo Killers featuring Tony Furtado and Scott Law — the banjo and guitar masters of bluegrass, folk and rock. Tony Furtado is an award winning banjo and slide guitar player who has recorded with Allison Krauss, Kelly Joe Phelps and Jerry Douglas. Scott Law has performed with Phil Lesh, Darol Anger, The Travelin' McCourys, David Grisman, Danny Barnes, String Cheese Incident, Railroad Earth, Jerry Joseph and Melvin Seals.
On Saturday, June 25, at 9:30 p.m. Terry Evans, a nationally-acclaimed blues singer and band take the stage. One of Los Angeles' foremost session vocalists, Evans received a gold record for his work on John Fogerty's "Eye of the Zombie" and has recorded with Ry Cooder, Joan Armatrading, John Lee Hooker and Boz Scaggs. Best Western Hood River Inn, 1108 E. Marina Way; 541-386-2200.
Last Watch at Everybody's
What happens when you give McDougall an electric guitar and pull in the drummer from Hillstomp? A sweaty, soul-shaking explosion of rock n' roll with words you can hold onto. Last Watch is taking their garage-rock, sludge-folk anthems to the streets, clubs and bar rooms. You can dance. You can pump your fist. You can sing and shout and hear something you need to hear. Lost City opens. Friday, June 24, 9:30 p.m. at Everybody's Brewing in White Salmon.
Bunzow at The Pines June 25
Kerry Williams and Crew rock The Pines in Hood River every Thursday from 6:30-9:30 p.m. with their impromptu solos and smooth vocals. On Friday, June 24, it's Joel Valle, from 6:30-9:30 p.m. Valle once again brings his smooth vocals and delicious guitar strums to the tasting room. Self taught, he draws inspiration from the likes of James Taylor, Dave Matthews, Santana and Bruce Springsteen. On Saturday, June 25, it's John Bunzow from 6:30-9:30 p.m. featuring original tunes and covers that lean towards roots rock/Americana which is a mix of blues rock, and country.
Crosman at HR Hotel
The Hood River Hotel has music in the lobby on June 24 with Suzie Sinclair and Friends from 6:30-8:30 p.m. On June 25, the jazz guitar of Charles Crosman returns from 6:30-8:30 p.m. Don't miss the Hapa Hillbillies on Monday night.
Catch Spruce & Raven this summer
There's acoustic roots music from Spruce Baugher & Raven Indawood every Wednesday at the Red Carpet Inn in Hood River from 6-8 p.m. No cover charge and music is out on the patio. Catch Spruce & Raven on June 24: Sunshine Mill in The Dalles 7-10 p.m.; June 25: Hood River Saturday Market 12:30-2:30 p.m.; June 25: Thirsty Woman in Mosier 7-9 p.m.