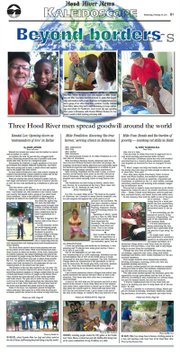 Three Hood River men spread goodwill around the world:
Mike Foss: Beasts and the burden of povert -- teaching vet skill in Haiti
By Kirby Neumann-Rea, News Editor
One cow at a time.
That was how Dr. Mike Foss tried to approach his recent work teaching veterinarian skills in Haiti.
The destitute Caribbean nation has very few resident veterinarians in a country whose subsistence population depends on livestock for food or transport to markets.
"If what I taught can help one family save one cow, the money they save may provide enough to educate one of their kids," Foss said.
Foss, who owns Alpine Veterinary Clinic in Hood River and White Salmon, has worked at equestrian events in lands as diverse as Australia, Argentina and Guatemala, in addition to the U.S. and Canada, teaching veterinary medicine and working with animals competing in endurance races.
Foss served as Japan's team veterinarian at the World Equestrian Games in one of the world's wealthiest countries - Dubai, United Arab Emirates, with its gold markets, exclusive hotels, and desert horse and camel races.
In late January, Foss took his skills to one of the poorest of nations - Haiti - living there for a week just before the first anniversary of the 2010 earthquake that devastated much of the nation.
"It was rewarding, yet the amount of poverty in the country is depressing," Foss said of the experience, his first mission work.
"I'd been interested in doing something like this, and it was a good time with my practice to get away," he said.
He taught basic veterinary practices to veterinary agents at an education facility named Carrefors, in a mountain village about a half hour from the Haitian capital of Port-au-Prince, a city Foss said is only beginning to recover from the earthquake.
Though the area Foss served in had seen little physical damage, expansive tent cities, along with fallen buildings and debris, were visible reminders of the devastation elsewhere.
Foss taught students about diagnosing animals, birthing techniques, suturing, tooth care, first aid, healthful feeding and livery.
He mostly trained people but also worked on animals during his time in Haiti. His students combined morning lab work with afternoon trips to farms.
The odds seem stacked against the Haitians, given the apparently corrupt government and the lack of basic services, according to Foss. Sanitation is a serious issue, not just for human health, but also for livestock.
"I tried to communicate that if you want your animals to be healthy, you have to keep them out of the manure," he said.
Carrefors is similar to a technical college, where people are trained in nursing, veterinary medicine, plumbing mechanics, electronics, computers and other work.
"They try to teach Haitians some marketable skills," Foss said.
Carrefors has a partnership with a Wisconsin-based Rotary Club. Foss learned of their training program through a professional organization, Small Ruminant Association. (Ruminants are livestock including cows, goats, sheep and llamas).
Foss, who lives in Snowden, Wash., specializes in large animals in his practice, though he said Alpine predominately serves clients with dogs and cats. Foss has been a veterinarian for 32 years; he opened Alpine in White Salmon in 1984, and added the Hood River clinic in 1988.
For years, Foss served as staff veterinarian for the Classic Hunter Jumper Horse Show in Mt. Hood; the event disbanded in 2009. Foss's wife, Sharon, is office manager at Hood River Alpine, and a veterinary technician.
In Haiti, Foss encountered animal ailments that are rare in the U.S., such as rabies and hog cholera, and "a weird pig disease" peculiar to Haiti.
He also saw plenty of wear and tear on the working animals.
"There are lots of saddle sores. Horses are their cars," he said.
People depend on their animals for transportation as well as getting their food to market. Without the cow or horse, they must themselves carry their goods for miles, greatly reducing income potential.
At Carrefors, Foss said his students were highly motivated and worked hard, but the language barrier made teaching a lengthy, arduous process.
"For one thing, humor gets lost in the translation," he said. He had a translator, but few of his students had any more than a basic understanding of English.
Teaching Creole-speaking students how to properly mix medicine, from instructions written in English, was a major challenge. (There are no veterinary professional journals written in Creole, making the hands-on instruction by Foss and others all that more critical.)
"I taught them things they need to know about better help for their animals," Foss said. "They have a few more skills - a better understanding of what they're doing. They were very appreciative."
"The Haitians are friendly people. They just have so little opportunity," Foss said.
Mike Pendleton: Knowing the true heroes serving clinics in Botswana
2001: Afghanistan
2003: Iraq
2007: Darfur
2008: Botswana
The international resume of Dr. Mike Pendleton is a virtual atlas of assistance.
With Northwest Medical Teams, Medicins Sans Frontiers (Doctors Without Borders) and other aid groups, the longtime Hood River family physician has repeatedly taken his medical expertise and compassion to troubled or poor foreign lands, including Albania, Turkey and Kosovo.
Most recently, Pendleton and his wife, Lynne, a retired teacher, served nearly three years in the east African nation of Botswana. Mike taught at the country's national hospital and visited outlying clinics to help instruct doctors.
The Pendletons are now living in Hawaii, where their son, Forrest, 30, is stationed in the Navy. Their other children are Eli, 33, Bethany, 28, and Aven, 28.
­ -- Kirby Neumann-Rea
In a Feb. 15 e-mail, Mike wrote: "We lived in the capital of Gaborone, but I traveled to many district hospitals, clinics and outposts throughout the south and in an arc around to the northwest. We flew once a month to remote hospitals out in the bush: Tsabong, Hukuntsi, Ghanzi and surrounding remote villages."
Speaking of which, Lynne said in a June 18, 2008, Hood River News article about their departure for Botswana: "We will always consider Hood River our home. This is the village that raised our kids."
Here is more from Mike:
"After the experience in Botswana and other places I am reminded, again, that we are indeed fortunate.
I loved the pathology and medicine on Botswana. It was amazing and I'll always have some great stories. I have a lot of pics if you'd like.
One of the highlights of our time there was volunteering in an AIDS orphanage. Botswana has the second-highest rate of HIV in the world and as a result thousands of kids have been orphaned. The SOS Children's Village where we volunteered is the placement of last resort for these kids. We would play with, read with, mediate with, etc. They were incredible with life stories that are extraordinary for us but were related in a matter-of-fact voice.
I had visited numerous remote villages from which they hailed and knew the nurses and docs there as well as the situation. That these kids were alive was a testament to their fortitude.
A third of the SOS kids are HIV-positive and SOS is very matter-of-fact about it. Each child takes his or her medication under direct supervision or doesn't go to school. Those that game the system regret it. These kids and those with HIV are the true heroes to me. I get to leave at the end of the stay in the village, or country. They stay and live or die with HIV, or from one or more of the coexisting diseases, and at the very least have an insecure future. Like any "village," some graduate from university while others fall below the radar.
I'm still in denial at some level; bereavement if you will. While I am fortunate indeed to have an extraordinary family that missed me (well, Lynne mostly) I dearly miss the medicine of that region. I know it sounds melodramatic but when it's just you between an extremely sick kid and death, it focuses you, steels you, makes you realize that THIS is why I'm a physician!
To save the life of a person that is dying fast is as simple as it is incredibly empowering. In the end it is self-serving to think that I made any real difference there as much it did to me. All I did was make relationships where scared docs and nurses could contact me and get medical or collegial support.
I gave case-based presentations on various manifestations of HIV or other primary care topics. There isn't a disease process that isn't accelerated by HIV and the docs there need all the help they can get. For most western physicians, it isn't the medicine that is so fatiguing. Many of the docs are on call almost 100 percent of the time. Again, the true heroes.
The experience was like teaching; no one thanks you in real time. You run into someone 10 years later and they thank you.
On my departure I can't say that any real difference was made in delivery of health care. Sure I made some clean saves and those folks have me to thank for it. But thanking isn't part of the Botswana culture and that took a while to get used to.
The medicine was average or below on a good day when I got there and was unchanged when I left. It won't be for another generation before we find out if the aid we gave Botswana had any real and sustainable impact. For now I have some great friends and memories."
Randal Lee: Opening doors as ambassadors of love in Belize
By Adam Lapierre, News staff writer
Edward (no known last name) lost his mother to cancer and his father to a bullet.
An orphan; the now 14-year-old boy struggled with school, bouncing around from one to another until none would take him. He was on a dangerous path.
Fortunately for Edward, a couple members of his local government had similar, difficult childhoods. And when they were young and in need, a small school and orphanage in the jungle was their savior.
So they referred Edward to that same school, hoping he could be rescued from a future aimed at crime, life on the streets or worse, in the Belize prison system.
When he entered the school, Edward couldn't read, he had anger and behavior issues and was in need of personal care. He was cold; hardened by a childhood of pain and loss.
That was about a year ago.
"When he came in, he needed a lot of care and attention," said Randal Lee, who traveled to the Central American country this month with a group of ten other Hood River residents. "After a few months of showing great progress, he asked if he could have a puppy. I tell you, it was about the ugliest dog I've seen, but that little puppy nearly brought him to tears. It broke the hardness in him; it has shown him a tenderness that he hasn't experienced in a long time."
For now, it appears, Edward is well on his way to recovery.
Lee has literally circled the world helping people. From Central America to Scotland; in poverty-stricken villages in Kenya to jungles in Belize, he has dedicated much of his life to connecting with distant communities and helping them build foundations for better futures.
The Hood River native's most recent journey was one he has taken several times. With roots dating back more than 30 years to when his brother, Alvin, was a bush pilot in Central America, the small orphanage and school sits surrounded by jungle along the Belize River. With ten people from the Hood River area and 11 others from around the U.S., Lee guided a work party down to the school to build a new staff dormitory to accommodate for the continued growth of the school over the years.
"My brother is the one who started it all," he said. "He was a pilot in Central America for about 40 years. He was delivering medical supplies to refugee camps when he and a friend purchased 19 acres of jungle on the Belize River. They cleared the land and built a boys' home and bible and trade school. The goal was to teach the boys about God's love for them, while giving them the education they need to do a trade. Since then over 100 boys have lived in the home and attended this small school in the jungle."
Some of the boys, Lee explained, passed through the school and have since gone on to work with the local government, which has turned to the school to help with troubled boys who would likely otherwise be headed into the prison system.
"As more boys attend the school, the government has given funds to help it expand," Lee said. "Due to additional students coming in, more staff is needed, and that's what our last trip went down to help with."
At lickety-split speed, the group arrived, set up camp and constructed the new staff building, complete with insulation, drywall, plumbing and electricity. From the Hood River area, Ralph and David VanDyke, Stanley and Gaylea Lee, John McCarty, Michael Walton, Charle Johnston, Peter and Susan Dufault accompanied Lee on the trip. Aside from a couple experienced builders/contractors on the trip, those who went were more or less grunt workers.
"Alvin went down a couple weeks early to get materials in order and lay a foundation," Lee said. "Once we got there, it was amazing how fast we were able to get the building up.
"The trips are about compassion for people of other cultures," Lee said. "We minister and spread the love of Jesus Christ, but our number-one goal is to build things that will directly help people in need. We are trying to teach the people we help, and ourselves, acceptance, tolerance and compassion for other human beings. The world is ours and all its people are our brothers and sisters."
Lee guides what he calls mercy-trips on a regular basis through Hood River-based Open Door Ministry, which is a non-denominational Christian group, not a church. Participants pay for airfare, which is usually discounted, and for food, which is purchased at local markets and cooked on site by one of the group members. The task of shopping for fresh ingredients at a local market is, for some who go along, a completely new experience in itself.
"One of our goals is to help bring people out of their comfort zones; to get them out in the world, helping other people and experiencing other ways of life," Lee said. "When we are on a trip, we always take the time explore the surrounding area and see what kind of activities are available to the locals. We try to make the trips educational, not just to build something. We are there to share, to work together, to minister, to teach and to learn; we are there as ambassadors of love."
Whether through Open Door Ministry or another program, Lee says opportunities are always available for people interested in traveling abroad to help with similar projects. Anyone interested in getting involved can contact Lee at randal@gorge.net for information.