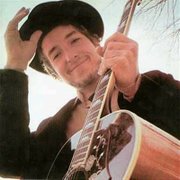 Like father, like son?
There were plenty of reasons I went to see The Wallflowers last Friday. I mean, just get a copy of "Bringing Down the Horse," and turn it up. For me, that one's worth the price of admission right there. It's a great album, and since I recently tracked down 3 or 4 more CDs, it was time for me to go check these guys out.
I guess it was serendipitous that this show fell close to Father's Day – and what a cool way to acknowledge the fact that the lead singer of The Wallflowers has an unbelievably big name in the music business for a father.
One really cool thing that I kept noticing throughout the show was that before some of the songs started, he would step back, turn around and tune his guitar. I kept looking at that shadowy outline, and it just seemed like I was looking at something inherently familiar.
And then he'd step up to the mic, a brown fedora hat tilted on his head, and he'd close his eyes to sing – the resemblance was unmistakable.
It was just like looking at his dad, and for the life of me, I couldn't get that image of out of my mind.
The Wallflowers
6-19-09
Wonder Ballroom
Portland
[Opening band – The Picture (from Brooklyn, NY)]
If You Never Got Sick
How Good it can Get
Some Flowers Bloom Dead
Closer to You
God Says Nothing Back
Up From Under
Josephine
Three Ways
God Don't Make Lonely Girls
Back to California
Sleepwalker
I've Been Delivered
How Far You've Come
One Headlight
(unknown to me – but it sounded like a 50's style rocker)
The Difference
Encore
Days of Wonder
Three Marlenas
Angel on My Bike