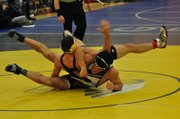 The weight classes moved by and the points continued to climb.
103 pounds - Hermiston; 125 pounds - Hermiston; 130 pounds - Hermiston; 135 pounds - Hermiston; 140 pounds - Hermiston; 145 pounds - Hermiston; 152 pounds -Hermiston.
After nine weight classes had been contested at the 5A special district two wrestling championships Saturday, seven had gone to the Hermiston Bulldogs, and two to the Pendleton Buckaroos.
The Hood River Valley Eagles were in second place as a team in the meet combining the Columbia River Conference and PIL but had no district championships to show for the day.
Jordy Mallon and Francisco Castro put a stop to that.
Mallon became the only HRV wrestler to beat a Hermiston wrestler in a title match when he hung on to beat Sam Johnson 5-4 at 160 pounds.
Castro followed that by physically dominating Hunter Woods of The Dalles-Wahtonka for a 15-2 major decision win at 171 pounds.
"It was much more personal matches when it was against Hermiston," Mallon said. "Especially seeing all the stuff they were doing to us."
The wins gave HRV two spots atop the medal stand and provided icing on the cake for a day that saw them move 10 wrestlers through to the state tournament and take second as a team.
"There were definitely some highs and some unexpected wins," HRV coach Trent Kroll said. "We won some we weren't supposed to win and that's always nice, but we also lost some we were supposed to win. But after those losses it's how you come back."
Joining Mallon and Castro at state will be Robert Frasier (second, 145 pounds), Aldo Lara (third, 119 pounds), David Brunk (third, 125 pounds), Alex Ayala (second, 130 pounds), Cesar Zarate (fourth, 140 pounds), Kelby Broddie (second, 152 pounds), Anthony Matthews (fourth, 171 pounds) and Brandon Dominguez (third, 285 pounds).
Katie Eddy narrowly missed qualifying for the tournament, finishing fifth at 119-pounds, but will be wrestling this weekend anyway during the girls state championships Saturday. She will be joined by teammate Frannie Ybarra, who also qualified for the girls tournament at 114 pounds.
"It was nice to get a couple of first places for Hood River too," Castro said. "Especially against Hermiston, since they beat a couple of our guys."
Overall the Eagles placed 18 wrestlers in the top six spots in their weight class.
"I'm proud of how this team attacked the tournament," Kroll said "We could have come in and not been ready mentally."
The 160-pound match between Mallon and Johnson proved to be one of the most exciting of the championship round.
Mallon got two take-down points right off the bat. He led 3-1 midway through the second round, before Johnson tied it up with a takedown at the edge of the mat. However, Mallon then reversed out of it to take a 5-3 lead.
He spent most of the third round clinging to Johnson or herding him to the edge of the mat so he could not earn any escape points.
"I saw I was two points ahead so I just kept him down and didn't want to try anything risky," Mallon said. "I just wanted to make sure I got through at least one point ahead."
Johnson earned one escape point at the very end of the match, but had no time to tie or take the lead before time expired.
In his match against Woods, Castro simply dominated the TDW senior from the get-go and piled up points in the final two rounds to win.
"I was pretty confident I was going to win," Castro said. "I just kept pressuring him and getting offensive."
Kroll said he was proud of all the placers and is looking forward to taking a large group to state.
"Every one of them competed 120 percent," he said. "That's all I can ask."