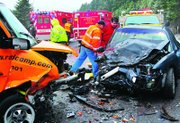 From minor to serious, motor vehicle accident calls swamped local emergency responders Friday through Tuesday, according to Hood River County Sheriff and Oregon State Police.
No fatalities had been reported in any of the accidents handled by local authorities, though a number of drivers were hospitalized, including an allegedly intoxicated driver in an accident Friday on Interstate 84 near Cascade Locks.
"I-84 was like a crash derby," for several hours between mileposts 44 and 58 on Friday, Feb 25, according to Sgt Pat. Ashmore of Oregon State Police.
Two men were injured Feb. 28 on Highway 35 at the junction with Odell Highway
Jonathan James Goddard, 18, The Dalles, was driving southbound in a 1997 Honda Accord, according to Ashmore, when he lost control of his vehicle in the slushy conditions. He crossed the center divide and hit a 1988 GMC van driven by Ryan Oliver Kreps, 28, of White Salion, according to Ashmore.
Driver statements and a witness report at the scene indicated both drivers to be traveling at about 50 mph, according to Ashmore.
He said that neither speed nor alcohol were believed to be contributing factors and both rivers were wearing restraints.
"This was a very lucky outcome, given that this was essentially a 100-mile per hour head-on collision," Ashmore said.
One driver was found unconscious at the scene. Additional injuries were suspected but as of press time only one driver remained under observation; the other had been released from Providence Hood River Memorial Hospital, according to Ashmore.
OSP officers were called in by Sheriff Deputy Mike Anderson and took command of the incident. Odell, Pine Grove, Hood River and Parkdale fire departments responded.
•
Several accidents occurred on Dee Highway Monday (see details at the end of this story) and officers and deputies continued to respond to crashes Tuesday morning.
Friday, Interstate 84 was closed several times because of the multitude of collisions.
There were so many crashes and slides that OSP "would clear one set and open the interstate, and within 15 minutes have to close it again," said Ashmore.
A particularly nasty pileup occurred at 3 p.m. Friday at milespost 45. Ashmore noted that following slideoffs of three separate vehicles, OSP closed the slow lane in the area with flares. This necessitated a merge into the fast lane. Then the pileup occurred:
Vehicle one, operated by an apparently drunk driver, later found with a blood alcohol content of .16 (twice the legal limit) merged abruptly in front of vehicle two.
Vehicle two hit the brakes but hit vehicle one, sending vehicle one head-on into a roadside rock wall.
Vehicle two was stuck by vehicle three, which was following it. Vehicle three also attempted to brake but was unable to avoid a collision with vehicle two.
Vehicle four, following vehicle three, also braked but also collided with vehicle three.
The vehicle one driver was taken by LifeFlight to Emanuel Hospital in Portland and vehicle three's driver was transported to Providence Hood River Memorial Hospital.
One and three were towed, other drivers were able to drive their vehicles from the scene.
I-84 eastbound was shut down for approximately 30 minutes and fully cleared by 4:30 p.m.
Said Ashmore, "I encourage people to stay off the roads if possible in this kind of weather."
Hood River County Schools were closed Tuesday as 6-8 inches of new snow fell overnight in Hood River County.
The mix of rain and snow surpassed the previous one-day precipitation record for Feb. 28, with 1.42 inches falling compared to the old record of .97 inches set in 1999, according to Hood River Experiment Station Records.
Mt. Hood Meadows received 24 inches of new snow in a 24-hour period, with another foot expected in the next few days.
"We're going to put in a long day," said Hood River County Public Works Director Dean Guess. A total of 13 trucks, plows and sanders were out.
"When it keeps snowing like this we turn around and do it again," Guess said.
Traffic incidents Tuesday morning included an 8:28 a.m. one-car non-injury "wheels-up" rollover at the Odell Highway junction with Highway 35, the same location as Monday's two-car crash.
Other incidents Tuesday morning included a semi-truck stuck at the Dethman Road junction with Highway 35, and downed power lines on Willow Flat Road and Central Vale Road
The Odell-area power outages lasted about an hour and affected roughly 30 customers, according to Chuck Weseman, Hood River Electrical Co-op operations manager. The lines were down between about 8 and 9 a.m. on Willow Flat and Central Vale roads; while located near each other they were unrelated.
Weseman said at 10 a.m. that crews are patrolling lines to check for snow load, but the problem seems to literally be dropping.
"The now is falling off the lines. There doesn't appear to be much more of a problem," Weseman said.
At press time, snow continued to fall.
"There's quite a bit of snow. It's slippery, so things have slowed down," said Tammy Johnson, an employee at McIsaac's Store in Parkdale.
"It keeps coming down so it stacks back up," Johnson, said.
Windmaster Market kept a little busier than most days, with plenty of southbound traffic.
"All the parents are taking advantage of the snow day and going up (to the mountain), with school out," said Russ Gray, owner of Windmaster Market.
"People are pretty smart about what to do when we get this much snow," he said.
"At 8:30 a.m., "all the (delivery) truck drivers have been and gone," Gray said.
So, a fairly normal day?
"Well, other than having to shovel snow," he said.
MORE INCIDENTS:
The list of OSP and Hood River County reports includes:
• 9:43 a.m. - Highway 35, 4800 block - Two car, non-injury accident
• 9:59 a.m. - Highway 35 at milepost 92 - Single-car, non-injury with a lane blocked
• 12:30 p.m. - Highway 35 at Dethman Ridge Road - single car, non-injury slide-off
• 12:49 p.m. - Dee Highway at milepost 8 - single-car, slide into a tree
• 2:55 p.m. - Dee Highway, 3200 block - single-car, slide into power pole with fire. Power lines downed. Driver arrested for failure to carry license and giving false information to officers
• 5:16 p.m. - Dee Highway at milepost 8 - a single-car slide-off, responded to by Oregon State Police.