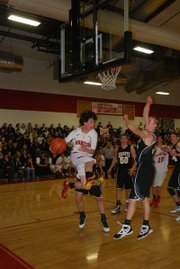 The game was a boiling stew of turnovers, steals and mad scrambles for the ball.
In the end, Horizon ladled up more points than the Columbia Christian Knights in an overtime game that had the standing-room-only crowd shaking the bleachers.
The Hawks overcame a two-point third quarter drought to win 48-45 in a game where every possession counted.
The win should long stand as a classic at a school that is fast building a storied basketball history for itself. What it does immediately is send the Hawks to the Final Eight of the OSAA Class 1A tournament starting today in Baker City.
The Hawks are the No. 7 seed and open play against No. 2 Wallowa at 8:15 tonight.
"It's amazing; the whole crowd hugging, everyone out here. It's an awesome experience," said senior Tanner Pettit, who scored nine points including two key baskets in the fourth and overtime periods.
"We've faced adversity before. We've won overtime games," said forward Sam Anthony, who had nine points.
"We knew (after the third) we needed to execute and rebound. We just did it," he said.
Three three-pointers in the fourth by Jordan Anderson, who topped Horizon with 15, and another by Pettit gave Horizon the points to overcome an eight-point deficit.
"It was teamwork, as always, plus intensity," Anderson said. "Last year, we didn't have that intensity. Now we have the will to win."
That will came on both sides of the ball. In a game replete with blink-and-you-miss-it defense by both squads, it was a daring defensive effort by four-year varsity player Andrew Stenberg that put the ball back into Hawk hands at the critical point in overtime.
Stenberg had missed a 12-footer at the 2:40 mark in overtime, Horizon down 39-38. As Columbia Christian's Derek Poole headed up the sideline on the fast break, Stenberg leaped in back of him, throwing himself toward the bleachers and poking his right arm around Poole, jarring the ball loose. Sam Anthony picked up the ball at half court and a moment later Max Totaro scored on a twisting layup to give Horizon a 40-39 lead.
That gave the Hawks the lead to stay; but the next 2:22 were full of drama.
Twenty-six seconds later, Stenberg did it again on defense, drawing a charge on Levi McDonald. Horizon worked the ball around under tight Columbia wraps, before Max Totaro got open along the baseline, as he did all night, hitting Pettit in the corner. Pettit drained the three to make it 43-39.
Seconds later, Poole answered with a trey. Horizon flew down court, and Totaro launched a three attempt and was fouled.
Totaro went to the line and, with the gym in silence, scored all three free throws to make it 46-42. He had 10 for the night.
In the first half, Totaro went to the line in the same situation - and missed all three.
"I thought about that, for a second," Totaro said. "That did cross my mind. But I knew I'd be okay if I just went into my rhythm, and I did."
Columbia's Brock Mueller put in one of two free throws with 48 seconds left. At 22.6 seconds Poole hit a jumper to bring Columbia within a point, and Pettit took the inbounds pass and roared up court, where he was fouled by Robbie Stefan.
Pettit made one of two free throws, and Columbia Christian got the rebound. Gunnar Getting missed a jumper from the foul line and Anthony muscled down the rebound with 5.1 seconds left.
"I just grabbed at it and pulled it down and held on to make sure I'd get fouled," Anthony said. He made it 48-45 with one of two free throws, and Columbia Christianhad to try a long field goal that went wide before the final buzzer sounded.
Scoring in the game went in fits and starts. Steals and turnovers, mostly by Columbia Christian, provided plenty of action. Horizon held the edge in the first half, 21-18, but the team "panicked" in the two-point third quarter, according to coach Darrin Lingel, after which Columbia led 29-23.
Stenberg, Max Totaro and Anderson repeatedly stole passes and knocked possessions out of Knights' hands. On more than one occasion, the Hawks would steal the ball, get it stolen, and steal it back again with the pace of popcorn popping.
"It was our pressure that created a lot of turnovers, but we didn't take advantage of them," Lingel said.
In the fourth quarter, the Hawks changed their offensive set and stayed aggressive on defense.
"Thankfully, Jordan got hot," Lingel said. "We went to man defense and had much better pressure on the ball."
Lingel said he is confident going into the state tournament.
"This team's got it together," he said. "They have had their moments on defense and tonight we had some moments when we sparked on the offensive side of the ball. I'm tremendously proud of them. They are not going to give up and die."