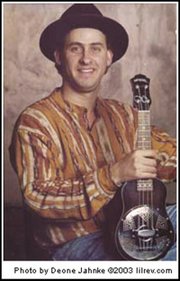 Ukulele Festival March 4-5
The Gorge Ukulele Festival continues Friday and Saturday with several concerts and jam sessions. The opening concert, featuring festival instructors and guest musicians, will be March 4 at 7 p.m. at the Hood River Middle School. The lineup includes Kate Power and Steve Einhorn, Danielle Ate the Sandwich, Hood River's Moe Dixon, James Hill and Anne Davison, and Boulder Acoustic Society — $15 adults, $5 children 12 and under. Proceeds from the festival support local school music programs. Last year, the concert raised $11,000, and helped purchase 150 ukuleles and paid for training for five teachers. A jam session is at Andrew's Pizza, 9:30 p.m., Friday, March 4. A ukulele teachers concert is at The Pines, 6 p.m., Saturday, March 5. The teachers concert will include Hood River's Hapa Hillbillies, and Dave Mullany, Craig Chee, Shelley O'Brien, Lil' Rev, Brook Adams, Ralph Shaw, and The Canotes, performers ranging from Eugene to Toronto, Ontario. Lil' Rev gives a house concert at 401 Montello Ave. on Sunday, March 6, 7 p.m. Lil' Rev is a Wisconsin-based award-winning multi-instrumentalist, songwriter and music-historian.
Celtic music fete March 11
The White Salmon Library will have a Celtic music celebration in the Sprint Gallery of the White Salmon Library on Friday, March 11, from 7-8:15 p.m. with Connie Dunnington and the 11-piece Gorge Fiddleheads String Band. Bring the whole family for a night of Celtic jigs, reels and airs. The library is located at 77 N. Wauna Ave, White Salmon, Wash.
Switzerland by Bike' March 10
Columbia Center for the Arts presents "Switzerland by Bike, Paddle and Boots" with John Harlin and Darryl and Darvel Lloyd. The slideshow/video/lecture presentation will be Thursday, March 10, at 7 p.m. (reception/booksigning 6:30 p.m.). In June 2010, Hood River author and adventurer John Harlin set out on a three-month journey to follow the entire Swiss border under his own power, a 1,200-mile odyssey with nearly 600,000 vertical feet of climbing — but disaster struck early. Eleven days in, he broke both of his feet during a 50-foot climbing fall. Three months later, his bones partly healed, Harlin resumed his adventures in two installments. In the fall of 2010, the Lloyd brothers spent a month of day-hiking on some of the most spectacular trails in the Alps. Their program features hikes in the Chamonix/Mont Blanc area, Valais Alps, Bernese Alps and Upper Engadine/Bernina Alps. For more information visit www.columbiaarts.org.
Lip Sync show canceled
The Lip Sync Challenge on scheduled for March 12 at the Columbia Center for the Arts has been canceled due to lack of participants.
The Alvins at Everybody's
Join Everybody's Brewing on Saturday, March 5, for a show from The Alvins. The band's modern and original approach to classic rock is driven by down-and-dirty guitar grit, reminiscent of the '70s. Add throaty melody and vocal growl to the grit, mix in two parts blues harmonica and organ, and shake it to electronica-inspired keyboards. The sum is innovative, entertaining and an alluring nod to the '80s. Everybody's Brewing, 151 E. Jewett Blvd., White Salmon, Wash; 509-637-2774.
Spring Splash April 2
The Hood River Waterfront Park Association (WCPA) will hold its annual Spring Splash on Saturday, April 2. The party will be held at Springhouse Cellar in Hood River from 7 to 10 p.m. with music by "Bigfoot" featuring Char Mayer, Tim Mayer, Rick Hulett, Tim Ortlieb and Ryan Kolberg. Hearty appetizers by Nora's Restaurant and Zumba dancers will be on hand to get the crowd dancing. Tickets are $25 per person and will be available at Waucoma Bookstore or from WCPA board members. The theme for the evening will be "Picnic for the Park" and a variety of well-stocked "theme" picnic baskets will be auctioned off. Donations will be accepted for three or four more picnic tables and more shade trees, which are still needed at the park. Since 2006, WCPA and City of Hood River have been working to raise funds to complete the $3.5 million Hood River Waterfront Park and are currently on Phase 2 of the project.
Music Mondays at Solstice
Solstice Cafe continues its Music Mondays series with local and regional acts. There is no cover charge and all shows start at 6 p.m. March. 7: Richard Tillinghast; March 14: Scott Sparks; March 21: Joel Valle; March 28: Richard Tillinghast returns. Solstice Wood Fire Cafe, 415 W. Steuben, Bingen, Wash.; 509-493-4006.
Sallie Ford at Cebu March 11
Sallie Ford and The Sound Outside are coming to Cebu Lounge on Friday, March 11, at 9 p.m. Even before their full-length album was finished, the group was crowned Best New Band of 2010 in Willamette Week. In 2011, Sallie Ford and The Sound Outside is poised to receive similar accolades from coast-to-coast and beyond. Best Western Hood River Inn, 1108 E. Marina Way; 541-386-2200.
Local radio show airs Thursdays
Jim Drake's local radio show airs Thursdays from 6:30-7:30 p.m. on 95.1 Radio Tierra. Featuring local bands and a journey through the music archives. Tune in!
Entertainment listings can be e-mailed to jdrake@hoodrivernews.com