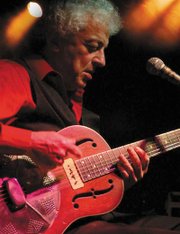 Hi there, and hope all is well. For those keeping track, my left arm is now out of the cast, and we're slowly coming up to speed on things. I can almost type in a "normal" position, but my wrist is still a bit stiff. At this rate of healing, maybe by summer I'll be able to pick up my instruments again and make some noise.
Sigh.
In the meantime, I guess I'll just have to listen to others play music. Luckily, there's no shortage of that around here.
Prime example, bluesman Doug MacLeod is coming to town. Apparently a master at what he does, MacLeod delivers a roots-rural authentic sound on National Steel Guitars.
He's got a new album coming out, and according to his website, he's played with just about everybody on the music scene.
And you know what? He's pretty modest about it, too.
I mean, I had to e-mail him a few times for this interview, because his answers were fairly short and concise.
Which probably means that Doug puts most of his energy into his music.
And that's probably where it should go, anyway.
Acoustic blues artist Doug MacLeod will be at The Pines Tasting Room on Saturday March 19, starting at 8 p.m. Tickets are $15 in advance. The show is for 21-and-over only. The Pines Tasting Room, 202 State St., Hood River; 541-993-8301.
Hi Jim,
Here's the interview for you.
Doug
Hi Doug! Thanks for making Hood River a stop on your Northwest tour. Have you ever played here before and what brings you to Hood River?
Yes, I played there back in 1997 or so. That's when I met Steve Curley - and Steve is what is bringing me there this time too.
Please tell our readers a bit about yourself and what kind of music you play?
Well, I play all original blues. I guess the best place for you to find out about me would be on my website. There's a press info tab there that should have all you need. If you need more, give me a holler.
Your gig is on a big weekend for music - St. Patrick's Day celebrations abound. What can we expect on the set list?
I never plan a set and I never play the same song the same way twice, so I really can't tell you what will be on the set list. I can tell you tho, that I'll be playing alot of songs from my new album called Brand New Eyes. And the folks can expect humor and storytelling. I like to leave the folks thinking that got no change coming for the concert and that I gave them something that they didn't have when they came in the door. Made them think, laugh, maybe cry, but most importantly feel. To me that's what blues is about - the feel and reaching the human spirit.
What artists inspire you/who do you listen to nowadays (whose on your iPod)?
Well my influences would be Big Bill Broonzy-Tampa Red-Son House-Ligtning Hopkins for the guys I didn't meet. And for the ones I have met: well, BB King- Albert King - George 'Harmonica' Smith - Pee Wee Crayton- and Ernest Banks. Who do I listen to? Well, quite a range right now. Jerry Butler, Jerry Reed, Wes Montgomery, Ahmad Jamal, Jimmy McGriff, James Hunter, Nina Simone - and of course all kinds of blues.
Let's talk about your instrument - the national reso-phonic especially. What draws you to play this kind of guitar?
Well, I've always like the sound of them. And they are very versatile too. I just use one guitar on the road ( like the old bluesmen did ) and my Nationals can pick and bottleneck. Tough as nails too.
The new CD Fresh Eyes, is this a solo project or did you have a band? What was the recording process like?
Mostly solo. I added Dave Kida on percussion and Denny Croy on bass for a few songs. The recording process was real 'old school'. I sat down in front of a couple mics and played. No headphones.
What is it like when you find out another artist wants to cover a song that you've written? Do you get to meet them and hang out?
Well, that is a treat. And an honor, too. Especially guys like Albert King and Albert Collins. Yes, I met them and we hung out at times. I never met Eva Cassidy though, and that is a regret. She did a great job with my song 'Nightbird'.
Over your career, you've extensively played, written about, and taught blues music. Can you tell us of one incidence of each that really, really stood out as highlights?
That's a little tough to answer cause there's been a lot of 'em. One that comes to mind right now was opening for BB King around Seattle a few years back and getting to meet him on his bus. Writing- well I'd have say today- that when a young lady came up to me and said 'Thanks for writing the song Come To Find.' I said you were welcome. Why the thanks? She said, "I'm trying to get past abuse myself, and your song has made me want to do it." I never saw her again. I hope she made it. Teaching? Well, I guess like teachers all over the world must think, when they see a student get it. That's a good feeling right there for sure.
Thanks Doug and good luck with your tour!
You're welcome. Jim