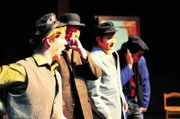 Bluesman Doug MacLeod at The Pines March 19
Acoustic blues artist Doug MacLeod will be at The Pines Tasting Room on Saturday, March 19, starting at 8 p.m. Tickets are $15 in advance. The show is for 21-and-over only. True blues. These two words define the style and commitment of the acoustic music played by Doug MacLeod, a singer-songwriter in the American tradition. MacLeod is a Blues Foundation nominee for acoustic artist of the year. On his newest CD "Brand New Eyes," MacLeod presents 11 original songs. In a genre often reliant on old standards, he is the rare traveling artist who writes and sings original songs that are based on his own life and experiences. He learned from the old masters, lived the music, survived the life and carries forward a valuable tradition. MacLeod is known for his superb songwriting, guitar wizardry, warm soulful vocals, wit and unforgettable live performances. The Pines Tasting Room, 202 State St., Hood River; 541-993-8301.
Paris Slim at Ananas March 12
The Paris Slim Blues Band will be at Ananas Boutique & Copacabana in The Dalles on Saturday, March 12, from 7-9 p.m. This event is for ages 21 and over, and there is a $10 cover charge. Ananas Boutique, 414 E. Second St., The Dalles.
Country Dance March 12
The Second Saturday Country Dance happens March 12, from 7-10 p.m. at the Rockford Grange. The caller will be Tim Gojio from Portland and the band will be the Mill Creek String Band. Dance lessons will begin at 7 p.m. All ages welcome. No partner required and this is a family friendly event. All dances walked through first time. Enjoy an evening of country squares, contras, circle dances and a few waltzes. $6 for members, $7 for non-members, $1 for youth 16 and under. Please bring snack treats for break time. Call Keith Harding at 541-352-7550 or Tom Hons at 541-386-5771 for further information.
Music at Volcanic March 11
There's live music at Volcanic Bottle Shoppe on Friday, March 11, at 7 p.m. Portland's Kyle Petersen of Laugh at Linus and local duo MMB (Chris Reed and Matt Messier) will be performing. There is no cover charge. Join us before the show at 6 p.m. for a free Sherry class and tasting. Volcanic Bottle Shoppe, 1410 12th St., Hood River; 541-436-1226.
Mike Stillman at HR Hotel
There's local music at the Hood River Hotel this week with jazz from Mike Stillman and friends on Saturday, March 12, from 6:30 to 8:30 p.m. in the lobby. Hood River Hotel, 106 Oak St., Hood River; 386-1900.
Double Mt. anniversary party
March heats up with live music at Double Mountain Brewery this month. All shows start at 8 p.m. and there is no cover charge. March 12: Double Mountain's Anniversary Party; March 18: Bob Connolly; March 19: Casey Anderson Quartet. Double Mountain Brewery, 8 Fourth St., Hood River; 541-387-0042.
Jerry Joseph at Waucoma Club
On Thursday, March 10, Jerry Joseph and the Jackmormons featuring Steve Drizos (drums) and JR Ruppel (bass) come to the Waucoma Club in Hood River. The band is touring behind their 2010 release, "Badlandia." Showtime is 9 p.m. and there is a $15 cover. The Washington Post says, "Sounding occasionally like John Mellencamp's older, wiser and psychologically mixed-up sibling, Joseph writes complex, image-laden songs and infuses them with plenty of attitude, soulfulness and swagger." The Waucoma Club, 207 Cascade Ave., Hood River; 541-387-2583.
'Is He Dead?' on stage at HRVHS
"Is He Dead?" – a newly discovered comedy by Mark Twain, will play March 11 and 12 at 7 p.m. at the HRVHS Bowe Theater. Tickets are $5 for students and seniors and $7 for adults. This seldom-produced farce involves cross-dressing, money lending, romantic mishaps and art.
Celtic music fete March 11
The White Salmon Library will have a Celtic music celebration in the Sprint Gallery of the White Salmon Library on Friday, March 11, from 7-8:15 p.m. with Connie Dunnington and the 11-piece Gorge Fiddleheads String Band. Bring the whole family for a night of Celtic jigs, reels and airs. The library is located at 77 N. Wauna Ave., White Salmon, Wash.
Spring Splash April 2
The Hood River Waterfront Park Association (WCPA) will hold its annual Spring Splash on Saturday, April 2. The party will be held at Springhouse Cellar in Hood River from 7 to 10 p.m. with music by "Bigfoot" featuring Char Mayer, Tim Mayer, Rick Hulett, Tim Ortlieb and Ryan Kolberg. Hearty appetizers by Nora's Restaurant and Zumba dancers will be on hand to get the crowd dancing. Tickets are $25 per person and will be available at Waucoma Bookstore or from WCPA board members. The theme for the evening will be "Picnic for the Park" and a variety of well-stocked "theme" picnic baskets will be auctioned off. Donations will be accepted for three or four more picnic tables and more shade trees, which are still needed at the park. Since 2006, WCPA and City of Hood River have been working to raise funds to complete the $3.5 million Hood River Waterfront Park and are currently on Phase 2 of the project.
Entertainment listings can be e-mailed to jdrake@hoodrivernews.com