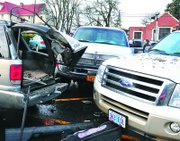 Never mind throwing on a bright orange traffic vest, chasing down a story and standing around the cold waiting for a good photo; sometimes it comes right to the front door.
That was the case Wednesday afternoon anyway, when the most exciting story of the day came barreling down State Street in the form of a runaway Dodge Ram pickup.
In a situation city police say occurs a couple times a year, this particular case of a vehicle rolling out of control with nobody behind the wheel was especially dangerous.
"I was about to pull out of the parking lot and turn onto State Street when I saw a truck bust through the stop sign going down Sixth Street," said Hood River News employee Jody Thompson.
"And when I say bust through, I mean literally. The truck plowed over the stop sign and the street sign; then it veered right across State Street aimed toward the library. It hit the curb and turned back across the road, then it hit the sidewalk, went airborne over the bushes, threaded between two cars in the only empty parking space in the row and smashed into three parked cars."
Thompson and other nearby witnesses rushed to the scene to find the truck unoccupied and one uninjured person in a vehicle struck by the truck.
"The driver she said she wasn't sure if she set the parking brake," said Hood River City Police Officer Don Cheli, who was first on scene. "A firefighter who responded said he set the truck's parking brake when he arrived." The owner of the truck, who was inside the county administration building at the time, wasn't cited.
"When she saw her truck and came running down the hill, all she wanted to know was if anyone was hurt," Thompson said.
Of the four vehicles impacted, a Chevy Blazer took the majority of the impact and was pretty well totaled; its owner was nearby in the dentist office but didn't witness the crash. Ironically, despite its run-in with street signs, a couple curbs, a parking meter, a 4-foot leap through thick bushes and a high-speed collision, the Dodge pickup was only slightly damaged and drove away just fine.
"It's really fortunate that nobody was hurt," Cheli said. "Had the truck gone straight down Sixth Street it would have been a lot worse. This is a reminder for everyone to set their emergency brakes, especially on a hill."