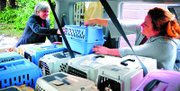 The past 10 days have been busy ones for volunteers at two Gorge cat welfare organizations, Catlink and Columbia Gorge Cat Rescue: They have been dealing with 57 cats discovered Feb. 21 in the home of a Goldendale couple.
The cats were in varying degrees of poor health and were found crowded into kennels and carriers - as many as 15 to a kennel - and were living in feces and filth, according to Catlink volunteer Jen Schwab, one of three people called in to help triage the poor animals according to condition.
"Most cats were almost half the body weight that they should have been," she said. "Some adult cats with 8-10-pound body frames weighed as little as 3½ pounds - it was horrendous."
Catlink was told by the Klickitat County Sheriff's office that if the animals weren't removed from the property they would be destroyed.
Catlink transported the cats to its facility in The Dalles, where they have been spayed or neutered and have been receiving veterinary care. Schwab said the biggest problems were malnutrition, starvation and dehydration, but many also had issues with fleas, ear mites, worms, hair loss, upper respiratory infections, eye infections and flea dermatitis.
"Several had really bad ear infections as well," she said. "There are still several high-needs cases in care at Catlink that were not able to be transferred for various serious health issues and/or disabilities."
To date, 48 of the cats have been fixed and treated; four are still being cared for and five kittens were too young to be spayed or neutered and went directly to Schwab's house for some TLC.
"The kittens I grabbed instantly," she said. "They were little, tiny, bony bodies with big eyes. We bathed them as they were caked in feces and fleas; when wet they didn't even look like kittens."
Sally Donovan, a Columbia Gorge Cat Rescue volunteer, helped with the kitten bathing.
"They were so sad," she said. "They really looked like a gremlin with bloated bellies, big ears, poop stuck on them, skinny bodies and fleas crawling all over them.
"But after they had their bath and were fed, they all nestled in their beds, curled up, sleeping with full stomachs and a warm, safe place to rest," she said. "That is the satisfying part of rescue; to see them safe and not be so afraid of life. When they start playing and purring, you know they will be OK."
For the rest of the cats, once they had been treated they needed a place to stay until they could be adopted. Though Catlink does have a small facility, there was no way it could house that number of cats, so it contacted Columbia Gorge Cat Rescue to help with transportation and to find an organization to house and find adoptive homes for the dozens of cats.
That organization turned out to be The Oregon Cat, a no-kill shelter in Portland that quickly took action to make room for the rescued kitties.
Fortunately, most of the cats were not feral, according to Schwab.
"Thankfully and amazingly, all but a few were fully loveable, handle-able and friendly," she said.
The Goldendale couple, Cheryl and John DiPonziano, were both charged with 59 counts of animal cruelty in the first degree. The Klickitat County Sheriff's Office was called by their landlord, Paul Brace, who claimed his tenants were neglecting their animals. He reported that the couple had been gone for over a week and had just returned when the sheriff's office implemented the search warrant.
In addition to the 57 surviving cats - of which 40 were orange tabbies - more than 50 dead and even more unidentifiable bodies of cats in different stages of decomposition were found in boxes in the garage. Strangely enough, such a practice is not uncommon with animal hoarders, according to the Hoarding of Animals Research Consortium (www.tufts.edu/vet/hoarding/harc.htm).
But the happy news is that most of the cats are on their way to finding their "forever homes."
"There aren't words for the rallying of the very few people - four - stepping in at the last minute to save these kitties from euthanasia," Schwab said. "And Catlink jumping on board, unplanned or scheduled, to take on 57 cats/kittens to fix, test, house and vaccinate, and The Oregon Cat offering to intake and save them all."
"This has been a great coordination in effort between agencies," said Dana Lionel, the Oregon Cat's director in TOC's press release.