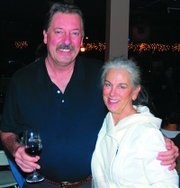 Lonnie Wright, owner of The Pines 1852 winery and Columbia Country Vineyards, received the Lifetime Achievement Award from the Oregon Wine Board Feb. 22 at the Oregon Wine Industry Symposium held at the Eugene Hilton Hotel.
According to the Oregon Wine Board, the Lifetime Achievement Award is "given to a person or couple whose work was pioneering and spans not only a personal lifetime, but the lifetime of the Oregon Wine Industry."
Wright was recognized for his work pioneering vineyards from 1978 to the present in the Columbia Gorge/Columbia Valley AVAs (American viticulture area).
Wright, who was asked to serve wine at the dinner, and took his renowned Zinfandel, not knowing he would himself be toasted. It was only when he saw his wife, Linda, at the event, that he realized something might be afoot.
"It's definitely an honor. It's really nice to be recognized," Wright said Thursday night at the weekly musical jam night at The Pines tasting room.
Growing grapes and making wines "is just something I enjoy doing," said Wright, who describes himself as "first and foremost, a grape grower."
According to Oregon Wine Board member Leigh Bartholomew, co-owner of Dominio IV and general manager of Archery Summit, Wright received multiple nominations and letters to receive this award and it was voted unanimously by the board to award Wright the Lifetime Achievement.
Bartholomew also mentioned that only six others have received this award, including pioneers David Lett, Dick Ponzi and Bill and Susan Sokel Blosser.
It's been 30 years since Wright arrived in Hood River. In 1982, he learned of 7 acres of abandoned Zinfandel grapes on Mill Creek near The Dalles, and he brought back the vineyard and has managed it ever since.
The vines are now known to be more than 100 years old, and are called "the Old Vine Zin."
Wright's vineyard management company, Columbia Country Vineyards, currently manages 240 acres of vineyard in the Columbia Gorge and Columbia Valley. His estate-grown Old Vine Zinfandel is the oldest vineyard in the Northwest, dating back a century.
Old Vine Zin was originally planted by an Italian stonemason. Maturing over the years these vines now produce grapes with intense flavors that award-winning wine maker Peter Rossback turns into bold, rich wine for The Pines 1852.
Early vineyard projects included McDuffee Vineyard in 1983, the Hillside Vineyard in 1984 and the Lewis Vineyard in 1986. Today, Wright manages 16 vineyards totaling about 175 acres within the Oregon parts of the Gorge and Columbia Valley AVAs and he markets grapes from 12 different grape varieties to more than a dozen wineries in Oregon.
"Ask about Lonnie Wright at any top winery or vineyard in Oregon and you will hear the same answer; that Lonnie Wright has been a true founder of the Oregon wine industry, although a quite one because he'll never 'toot his own horn,'" Bartholomew said.
"And you'll hear that no one in the Northwest is a better grape grower or more of a straight shooter than Lonnie. And that no one is a more loyal friend."
In 2007, Lonnie Wright and his daughter Sierra Wright opened The Pines Tasting Room and Art Gallery at 202 State St. in downtown Hood River. The Pines Tasting Room is open Wednesday and Sunday, noon to 6 p.m., and Thursday through Saturday from noon to 9 p.m.; with live music every Thursday through Saturday from 6-9 p.m. For more information: www.thepinesvineyard.com.