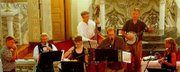 Irish band Barley Draught celebrates
Gorge band Barley Draught celebrates the upcoming St. Patrick's Day season with traditional Irish ballads, reels, songs and stories. Join Mike Ballinger and friends for an evening of song and dance in the Irish tradition.
Thursday, March 17: St. Peter's Landmark Church, The Dalles - with Cascade Singers and Columbia Gorge Ukuleles 7 p.m.; Clock Tower Pub, The Dalles, 8 p.m.
Saturday, March 19: Dog River Coffee in Hood River, 2 p.m.; The Mint in The Dalles, 7-9 p.m.
Ron Stubbs at Portage Grill
Master Hypnotist Ron Stubbs comes to the Portage Grill in The Dalles with his outrageous rock 'n roll hypnosis show on Friday, March 25, at 8 p.m. $15 advance tickets available at the Portage Grill, Klindt's Booksellers and Healthy Habits. Shilo Inn, Portage Grill, 3223 Bret Clodfelter Way, The Dalles; 541-298-3287.
'Willy Wonka' on stage
The Dalles Wahtonka High School Drama Club presents "Willy Wonka," a delicious musical adaptation of Roald Dahl beloved classic "Charlie and the Chocolate Factory." The story deals with the world-famous candy man's quest to find an heir for his candy factory. Willy Wonka and his band of singing and dancing Oompa Loompas lead Charlie Bucket, the spoiled-rotten Veruca Salt, gluttonous Augustus Gloop, gum-chomping Violet Beauregarde and the television addict Mike Teavee through a labyrinth of chocolate, lemon drops, and life lessons with laughs galore. Performances take place at TDWHS auditorium on March 11, at 7:30 p.m. and March 12, at 2 p.m. and 7:30 p.m. and March 17-18 at 7:30 p.m. and March 19 at 2 p.m. and 7:30 p.m. Tickets are $6.50 for adults and students and $5 for senior citizens and children under 12.
Swing Crew at Naked Winery
Friday March 11, 6-9 p.m. Kit Garoutte – Join Kit this Friday as he shows his solid musicianship by seamlessly blending his influences into an original, organic sound. It's jazz, rock and new acoustic mixed with inventive songwriting.
Saturday, March 12, 7-10 p.m. Big Ronnie Medium Ben – Roots and blues with Ben Bonham and Ronnie Ontiveros. Join us for relaxation and fun on Saturday night.
Sunday, March 13, 5-7 p.m. Swing Crew - Back this Sunday our local favorites play danceable treats every other Sunday.
Monday, March 14, 7-10 p.m. - Naked Winery's open mic/Jam hosted by Les Vaughn. Naked Winery, 102 Second St., Hood River; 800-666-9303.
Scott Law at Meadows
Enjoy live local music at Mt. Hood Meadows this March. Events are held outside or at the Vertical Pizzeria (weather dependent) Saturdays and Sundays, from 3-6:30 p.m.
March 12-13 Scott Law & Company: Guitarist, songwriter-composer and singer, Scott Law embodies the ideal of the American Steel-String Guitar Master.
March 19-20 Sugarcane: The Northwest's premier Roots Rock Band from Portland. What makes Sugarcane special? The answer is: heartfelt, inspiring songs and a natural, earthy sound that is accessible to many.
March 26-27 The Garcia Birthday Band: Based in Portland, this group of veteran musicians interpreting and celebrating the vast repertoire of the late Jerry Garcia and The Grateful Dead.
Country Dance March 12
The Second Saturday Country Dance happens March 12, from 7-10 p.m. at the Rockford Grange. The caller will be Tim Gojio from Portland and the band will be the Mill Creek String Band. Dance lessons will begin at 7 p.m. All ages welcome. No partner required and this is a family friendly event. All dances walked through first time. Enjoy an evening of country squares, contras, circle dances and a few waltzes. $6 for members, $7 for non-members, $1 for youth 16 and under. Please bring snack treats for break time. Call Keith Harding at 541-352-7550 or Tom Hons at 541-386-5771 for further information.
'Is He Dead?' on stage at HRVHS
"Is He Dead?" — a newly discovered comedy by Mark Twain — will play March 11 and 12 at 7 p.m. at the HRVHS Bowe Theater. Tickets are $5 for students and seniors and $7 for adults. This seldom-produced farce involves cross-dressing, money lending, romantic mishaps and art.
Entertainment listings can be e-mailed to jdrake@hoodrivernews.com