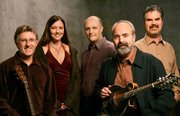 Groove in Gorge March 25
Get ready to dance the night away at the Groove in the Gorge Dance Party with DJ Mojo on Friday, March 25. The event happens at the Paris Fair Event Space, 315 Oak Street, 3rd Floor, in Hood River from 8-10 p.m. Admission is $8. For more information, visit www.cascadeacupuncture.org.
'Jaybirds' visit March 24
Columbia Center for the Arts and Gorge Music Series present an outstanding evening of music with John Reischman and The Jaybirds on Thursday, March 24, at 7:30 p.m. Tickets are $15 for adults and $12 for students and seniors and are available at Columbia Arts, Waucoma Bookstore and the Oak Street Hotel in Hood River and online at www.columbiaarts.org. Columbia Center for the Art is located at 215 Cascade Ave. in Hood River. With four critically-acclaimed albums and an expanded touring schedule, John Reischman and the Jaybirds are a top-flight band delivering a truly fresh blend of original songs and instrumentals, old-time heritage, and bluegrass power.
Al Stewart tickets on sale
Grammy nominated and Platinum selling recording artist Al Stewart, best known for his songs "Year of the Cat," "Time Passages" and "On the Border" comes to the Columbia Gorge Interpretive Center in Stevenson, Wash., on Saturday, May 14, at 8 p.m. This special acoustic evening will feature guest guitarist Dave Nachmanoff. Seating is limited. Tickets are $25, available at 1-800-494-TIXS or www.SkamaniaArts.org. The concert is presented by the Skamania Performing Arts Foundation.
Hillbillies play HR Hotel
Music at the Hood River Hotel continues with jazz and more from Suzie Sinclair, Bill Irish and Susan Crowley on Friday, March 18, from 6:30-8:30 p.m. On Monday, March 21, it's tunes from the Hapa Hillbillies from 6:30-8:30 p.m. Hood River Hotel, 106 Oak St., Hood River; 541-386-1900.
'Will West' at CEBU March 18
On Friday, March 18, Will West and the Friendly Strangers debut at CEBU Lounge. Music starts at 9 p.m. and there is no cover charge. The Portland Mercury says "The Friendly Strangers are a formidable ensemble, boasting fiddles, banjos and mandolins, all guided by Will West's casual ringleading." Blending traditional instrumentation and old-time inspirations — playing modern folk, roots and cozy Americana. On Saturday, March 19, it's music from Cameron Ferguson. Come see why Cameron is the Cebu staff favorite. Best Western Hood River Inn, 1108 E. Marina Way; 541-386-2200.
MacLeod, more at The Pines
Come to The Pines to celebrate your Irish heritage! The tasting room will be rockin' to the Irish tunes of Kerry Williams on Thursday, March 17, from 6-9 p.m.
On Friday, March 18, put on your dancing shoes and move your feet to the motion: the LoLo Motion! Enjoy and interesting blend of funk and blues.
On Saturday, March 19, from 8-11 p.m. bluesman Doug MacLeod makes a rare appearance at The Pines. Sing Out Magazine says "Macleod is preserving a lost art . . . A must for any serious fan of the blues and any soul who needs the healing of the blues" Tickets are $15 in advance. The Pines Tasting Room, 202 State St., Hood River; 541-993-8301.
'Springhouse' Equinox party
Celebrate the arrival of Spring with Kerry Williams on guitar and mandolin on Tuesday, March 22, from 7-10 p.m. at Springhouse Cellar in Hood River. Appetizers will be available and there is no cover charge. Springhouse Cellar, 13 Railroad Ave., Hood River; 541-308-0700.
Eddy Corduroy at Naked Winery
Saturday March 19, 7-10 p.m.: Eddy Corduroy and The Jackets — Roots, blues and rock. Join us for relaxation and fun on Saturday night.
Sunday, March 20, 5-7 p.m.: Cameron Ferguson — This local singer/acoustic-guitarist covers everything from Led Zeppelin to Jack Johnson, then back again with The Beatles and a little Pearl Jam.
Monday, March 21: 7-10 p.m. Naked Winery's open mic/Jam hosted by Les Vaughn. Naked Winery, 102 Second St., Hood River; 800-666-9303.
Dust Settlers play March 18
Everybody's Brewing brings a super fun bluegrass and country quartet coming to the Gorge on Friday,?March 18: The Dust Settlers! These cats are part of a side project of The Sugarcane String Band who have rocked Everybody's Brewing several times, so these folks are no stranger to turning out the good times. They let loose with fiddles, mandolins, guitars and standup bass with original tunes along with Willie Nelson and Johnny Cash tunes.If you're looking for an awesome foot stompin' string pickin' party, we got what you need! Everybody's Brewing, 151 E. Jewett Blvd., White Salmon, Wash; 509-637-2774. Entertainment listings can be e-mailed to jdrake@ hoodrivernews.com