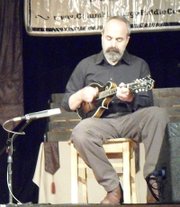 Jim Drake's Entertainment Blog
A mandolin player's mandolin player – an interview with John Reischman of the Jaybirds
Dear mandolin players and music aficionados:
The Gorge has a real treat on our hands. John Reischman and the Jaybirds are scheduled to land in Hood River on Thursday, March 24, at the Columbia Arts Center. I've seen these guys several times over the years, and it's going to be good, believe me. I mean, the Arts Center is a really nice place to see music. With that "black-box theatre" set-up, you'll be focused on the band, and nothing else. The leader of this bluegrass/old-time/acoustic band, John Reischman, is one of the most respected players of the mandolin today. When it comes to tone, timing, and precision, this guy is it. He's worked with David Grisman, Tony Rice and Laurie Lewis. I'm sure, if you asked them, they would tell you the same thing. All of the other players in the band are top notch. They've got a beautiful gal on bass who sings, and the guitar, fiddle and banjo are going to blend perfectly.
John took a few minutes out of his schedule to talk about the band, and I was happy to learn that the Jaybirds in fact do have a new CD on the way. For those in attendance, you're going to enjoy a set of music that will preview the album "Vintage & Unique."
Sounds good to me. I hope you agree, getting down to see this show is a no-brainer. See you there.
Sincerely, Jim Drake
Interview with John Reischman
Hi John! If you have a few minutes, we'd like to get a few comments to promo your upcoming show in Hood River. I've seen your band a few times over the years, really enjoy the music, and I remember meeting you on one of the Alaska cruises (2006 I think). Thanks in advance for your time, and thanks for putting Hood River on your schedule. And, if any other band members want to add anything to the questions below, please feel free to forward this along. Cheers, Jim Drake
The Jaybirds Interview, Hood River News
1. I'm glad to see you guys coming to play in the Gorge. Are you touring in support of a new album? What can we expect to be on the setlist?
Yes, we will have the new cd with us even though it is not officially released yet. The sets will feature all of the new tunes, plus a few from earlier cds. We are happy to work in requests as well. It is our fifth CD, titled Vintage & Unique. The new CD features new original compositions by all five Jaybirds, in addition to traditional, old-time songs arranged in the Jaybird style. We have also recorded a Bill Monroe song, and a Gospel quartet.
2. The Jaybirds has had the same personnel for a lot of years, and it shows. How many hours of real "practice time" do you guys get in per week? (not including banjo tuning) :)
Since none of us live in the same town, and we are spread out all over the west coast, we only practice as a band when we are on tour, or together for a recording session, and sometimes when we are all on staff at a music camp. We all put in time individually to brush up on the material, and to stay in shape.
3. As you know, the economy has been down the last few years. What changes, if any, have you guys seen on the festival/bluegrass/touring circuit?
We had a lot less work in 2010. This seems to be turning around, thankfully. I hear the same from other bands.
4. What bands do you guys listen to for inspiration/ideas?
For inspiration, as far as the Jaybirds sound, I personally listen to a lot of Old-time music. Both by contemporary musicians like Bruce Molsky and Dirk Powell and by traditional players like Hobart Smith and Doc Watson.
5. I've heard a story from you that involved writing a story on a train that got held up for a few hours. Have any other similar incidents like that occurred in the last few years?
I can't think of anything like that happening in recent years. The train you were referring to actually derailed (no one was injured) and I was stuck on it until 3 in the morning. The next day, after 3 hours sleep, I wrote two new tunes.
6. Sometimes you perform as a duo with John Miller (guitar). In fact, I think you guys were here last year, for the Columbia Gorge Fiddle Contest. Do you like working as a band or in the smaller side-projects better?
I like them both equally. I feel very fortunate to have these two strong outlets for the music I love: Bluegrass and Old-time with the Jaybirds, and Jazz and Latin with John Miller.
Thanks John for your time and enjoy Hood River!
Thanks You!