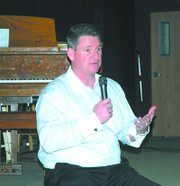 "A safe environment is paramount," Ken Block said in introducing Child Safety Inc. to the Hood River community at a gathering March 10.
"We are all looking for ways to keep our children safe in a world that is not all that safe," said Block, superintendent of Horizon Christian School, which hosted the forum by CSI and two other local companies offering safety and self-defense services.
CSI owner Sean Spellecy, originally from Oklahoma, moved his business to Hood River last fall. CSI offers a variety of safety and outreach services for parents as well as people caring for citizens with memory loss.
The key product is an electronic card equipped with a USB connection onto which parents can download a cornucopia of data about their children, including photos, descriptions, vital statistics, blood type, shoe size, medical information and more.
The card can instantly be downloaded, providing police, search and rescue and medical providers instant access to vital information about a missing or injured person.
"Nobody has anything like this that can keep a family safe," Spellecy said. "Safety is the ability to be prepared, and that is why we put this program together.
"Sometimes when you talk about safety you start dealing with stuff that's scary," he said, referring to abduction, predation and children or seniors who get lost and go missing.
Spellecy also introduced Mike Martin and Aaron Jubitz, owners of Best Defense (both are Hood River Police officers) which teaches an array of self-defense courses, and said he has partnered with George Evans of Northwest TaeKwonDo, who was unable to attend.
Spellecy also announced he has partnered with Hood River Soroptimist to work locally in the fight against human trafficking. The CSI kit is being provided at no charge to agencies such as The Next Door Inc. for families who cannot afford the cost ($100 for the first year, $50 annually after that).
"What CSI does is provide a kind of insurance policy, for safety, but also it's about education," said Michelle Sliwa of Soroptimist.
Spellecy said that CSI is currently donating one kit to local agencies for every one purchased.
"I know this can save a kid's life," said Spellecy, a former school principal who spent three years researching and developing his business.
CSI also provides a newsletter with safety tips, a parent support line for dealing with bullying, drugs and alcohol and other issues
Spellecy believes the CSI products can provide families a measure of protection - or at least quick response by law enforcement - in case a child becomes a runaway or goes missing.
Each CSI kit comes with a master card to keep in the home and a duplicate "travel" card that can accompany the child. Spellecy noted that the card can be useful for non-sinister situations, including secure photo and serial number record of home valuables.
A child can take the travel card to summer camp or on a trip with friends, and adults in charge can have instant access to medical information in case of illness or injury.
CSI's program also partners with the group Family Watchdog to identify all registered sex offenders in the area free of charge, including offenders' photos and addresses, types of crimes and offender status, and e-mail/text message immediate updates if an offender moves in/out of a 5-mile radius of your home.
A CSI subscription provides access to video e-mail and Twitter alerts to 100,000 e-mail addresses from the address of the abduction/runaway or possible location of the child. This alert shows the child's picture, a request to forward and a phone number to contact in case of information/sighting.
A CSI representative works with families in case of an abduction alert.
For details on CSI, call 888-342-1997 or visit www.childsafetyincorp.com.