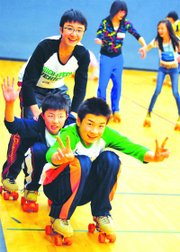 When the shaking started, 18 middle school students and one teacher from Tsuruta were in the Tokyo Airport, en route to Hood River for the sister city's annual spring exchange visit. The group's two other adult chaperones - a tour guide and the vice mayor of Tsuruta - were nearby on an expressway, on a bus, trying to catch up to the group at the airport.
The airport handled the quake without extensive damage and reports said the group was hurried to board the plane, which was considered safer than inside the terminal. Although delayed on the tarmac for a few hours, the students made their flight for Portland.
The two adults, Naoki Kumitani and Ichiro Yamamoto, weren't so lucky. The expressway got jammed up and it took many hours for the bus to reach the Tokyo airport, and by the time they got there considerable chaos had erupted and their plane was long gone.
Mrs. Sanae Oyama, a music teacher in Tsuruta, speaks a little English but has never been to America. She was now in charge of 19 middle school students, by herself. A teacher from most other countries in the same situation might have been in trouble; but Japanese students tend to be very well-behaved, and these kids have been coached for weeks in advance on how to behave during the sister city exchange visit.
"It was a very difficult time," said Kumitani, who, as a tour guide, has visited Hood River several times with exchange groups. Kumitani and Yamamoto were stranded for three days in the Tokyo airport before they could get a flight to Portland. "We just had to wait," he said with a smile.
•
The students, staying in Hood River with host families, are obviously aware of the massive earthquake since they were in Tokyo when it happened. By the time they touched down in Portland, members of the Hood River Sister City Committee had spoken to Tsuruta townspeople and were able to report to the students that very little damage had occurred in Tsuruta and that all their families were fine.
Other than that news, however, most probably don't know the extent of the damage and ongoing catastrophe occurring only a few hundred miles from their home.
"They've only watched a little television," said Scott Murahashi, who is hosting two boys. "I don't think they know the extent of what is going on. In my personal opinion, I don't want to keep anything from them, that would be wrong; but I also don't want to stress them out while they are away."
Another host mom with two girls said the same thing; that the students have watched little television and are focused on having a good time while they are here.
The latest reports from Tsuruta say cell and e-mail service is operational, so students are able to contact their families from Hood River. Rolling power outages are in effect for the region, however, as the national power supply company copes with ongoing nuclear power plant disasters.
The group is scheduled to be in Hood River until Saturday morning. Their list of events this week include a tour of the valley today, a shopping trip to Portland on Thursday and a ski trip with lessons and rentals compliments of Mt. Hood Meadows Ski Resort.
Kumitani noted that the students are safer in Hood River than they would be in Japan right now.