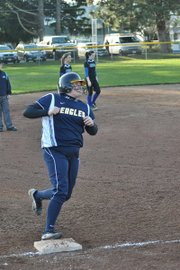 If the first two games of non-league play are indicative of the rest of the season, HRV baseball and softball fans should be ready for a wild ride this season.
The HRV softball team lost 4-1 in extra innings to Reynolds Wednesday, but then bounced back to clobber Gresham 10-0 in five innings Thursday.
Meanwhile, the Eagle baseball team clobbered Centennial 13-6 Wednesday and then played a crazy game against Gladstone Thursday.
The Eagles fell behind 7-0 in the fourth inning, scored seven runs in the bottom of the inning to tie, but then saw the pitching and defense fall apart with numerous walks and errors as Gladstone rallied to win 14-7.
At the softball diamond freshman Kayla Byers led the way for the Eagles. She pitched all eight innings against Reynolds Wednesday and then shut out Gresham Thursday while collecting six RBI on a bases-loaded double and a three-run home run.
"We got the jitters out," coach Eric Keller said of the win over Gresham. "Today we were relaxed and had a lot of chips fall our way."