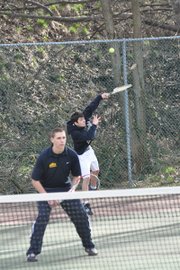 The Hood River Valley boys tennis team got what it was expecting from the front end of its team, and then got some clutch performances on the back end to defeat Gresham 5-3 Wednesday in its home opener.
Luke Ihle cruised to a 6-4, 6-2 win in No. 1 singles and Jonathan Goatcher and Goatcher and Josh Ziegner rallied from a first set loss to win 1-6, 6-0, 6-0 in No. 1 singles.
The Eagles had to forfeit No. 4 singles and then saw the match come down to the No. 4 doubles and No. 3 singles match. With a loss in either, Gresham would have won the match on sets won.
However, Levi Roeseler and Zeb Braun came back after losing the first set in No. 4 doubles and then cruised to a 6-7 (1), 6-1, 6-4 win.
In the last match of the night, Zach Nunberg stormed back in the third set to beat Brian Chin 6-4, 5-7, 6-4 and clinch the win for the Eagles.
"It was his first time playing singles in a couple of years," HRV coach Jon Hiatt said. "I was really proud of him for staying mentally tough throughout the match."