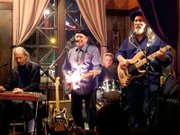 If you've seen the movie, "The Blues Brothers," you probably know the most famous line: "Sure, we play Country and Western." Aykroyd and Belushi proceed to play "Rawhide" behind the safety of chicken wire. So when I found out that a band called Ron Rogers and the Wailing Wind has a new CD called "Country and Eastern," I thought it would be a good time to do an interview. And, by the way, after previewing a few songs on the web, I think this Saturday night will be a good time, musically. Minus the chicken wire, of course.
1. Tell us who's in the band, and have you played here before?
Hey Jim! Well, I think Dave Grafe (pedal steel) has played a lot in Hood River, I guess with Foothill Diesel (Bob Connolly's band), that's the one I'm familiar with. Don Campbell, our bassist, has, probably with blues band DK Stewart. Our drummer, Chris Bond, is so mean he's really only played with me. I have to keep him on a short leash.
2. Congratulations on finishing the new CD, "Country & Eastern." I had to laugh when I saw the title, though.
"Country & Eastern," well, I'm definitely not Country & Western. It is a play on words. But if you listen close there's some raga influences in my music, kind of a modal drone. No major or minor thirds in some of the chords. Overall I would call our music "roadhouse music." When you play in Texas as I did for many years, you play this cross section of styles, it's a blend of Western Swing, Rock n' Roll, Honky Tonk country, not that Nashville "stuff". There's some Cajun Bayou Soul, it gets mixed up in a gumbo and kinda sounds like us.
3. Your bio mentions that you wrote a song with Del McCoury. I'm a huge bluegrass fan, so I have to ask, what was it like working with Del?
Well here's how the Del McCoury thing happened. I met a songwriter in Portland, Joe New, and he said "Hey I have this idea for a song called "40 Acres and a Fool," but I've hit a brick wall with it." So Joe and I finished it and it was kind of a funky country blues-rock thing. Joe put it on a CD with about 3 other bluegrass-type songs and took it to the Hardly Strictly Bluegrass Festival in San Francisco. Del was playing there and had previously recorded one of Joe's songs. Joe gave him the CD. We never thought he would do "40 Acres." So Joe calls me a week later and says Del wants to cut the song, but he wants to write a last verse. So what are we gonna say? So Del wrote a last verse and it was released on his CD called "MoneyLand."
4. You have been involved with the Portland Blues fest over the years. Any chance you guys are going to be on the bill this year??
I played the Blues Festival in 2004 and I've sold my art there (ronrogersart.com), where you can see an example, "Shrines to Dead Musicians," is how I tagged it. I don't really think they would book us at the festival with this current band, we're not blues by any stretch of the imagination.
5. Your band is not quite blues, not quite folk, it's more of a specialty niche. How does each band member fit into this style of music?
Everyone in the Wailing Wind are accomplished musicians and can play many types of music. I write the songs and we work on the arrangements and that's about it. It's pretty easy with these guys. We have a real good time and I think it shows on stage. These guys know how to accompany a singer and that's huge. Chris and Don are a great rhythm section and Dave lays on some tasty pedal steel, I play some of my dumb easy guitar licks and shazzam, you've got Ron Rogers and the Wailing Wind. Seriously though, from the first time we got together, it just worked.
6. Give us preview of what's going to be on the setlist.?
The setlist will be mostly originals. We play a Waylon Jennings song, a Jimmy Rodgers song (the Singing Brakeman) and Dave Grafe is featured on Booker T. and the MG'S "Time Is Tight." We don't play too many covers, but we "shake em on down." It's lively music, and a few sensitive songwriter tunes, but mostly it's "Rockin Roadhouse." We hope everybody comes on down and checks it out. Thanks Jim!
Ron Rogers and the Wailing Wind will be playing at Double Mountain Brewery on Saturday, April 2, starting at 8 p.m.