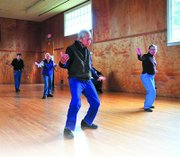 Though it is nearly 100 years old, the Mt. Hood Town Hall is still full of life and energy and still beats strong as the heart of the Mount Hood community.
And credit for that longevity goes to the people in the community, who have worked hard to preserve and restore the building for future generations.
The primary fundraiser for that restoration work is coming soon; the April 9 Enchanted Evening, to be held at the Town Hall at 6:30 p.m. and featuring live music with Lolo Mo, a silent auction, dinner and desserts, local wine and beer, and this year, a "room of fortune" (see sidebar).
Mt. Hood Town Hall supporters are gearing up for the building's 100th birthday in 2014 by setting four main goals:
2011 - Hire a part-time executive director to assist the board with marketing and management
2012 - Replace exterior windows with energy-efficient and historically appropriate windows
2013 - Paint and repair the exterior of the building; repair flooring and interior cosmetics
2014 - Increase building use and programming so that the facility is self-sustaining and thriving
This year's goal for this "Countdown to 100" campaign is to raise $10,000.
The Mt. Hood Town Hall was built in 1914 as a school for the Mount Hood community by Lou Baldwin. It originally had just two rooms but was expanded in two additions over the years. It served as an elementary school from 1915 until it, along with many other community schools, was closed in 1961 with consolidation of the school district.
The building was privately owned and was used as a church until 1973, when it was bought by the Hood River County Board of Commissioners to provide a social gathering place and community center for upper valley residents.
Since that time a dedicated group of volunteers has logged many hours on the upkeep of the building, which was added to the National Register of Historic Places in 1987. It was found to be significant "since it is architecturally intact, is currently utilized for functions similar to its original purpose and anticipates an expanded future role within the community."
In 2004 extensive renovation began on the structure, with lots of volunteer work and generous grants. The biggest improvements came during a 15-month period from 2006-08, when the Town Hall received new water main and sewer lines, plumbing and electrical systems, handicapped-accessible entries, a new roof and other major helps.
Those changes vastly increased the building's usability factor, and broadened its potential for drawing people of all ages and abilities.
The facility can now offer itself for weddings and receptions, business or club meetings, social events and family reunions. It has a commercial kitchen appropriate for catering, cooking classes, food start-up businesses or events needing food service.
Rooms available for rental include the gym, stage, four classrooms, kitchen, dining room and the outside grounds.
Children returned to the building in 2009 when New Vision School opened. Senior meals have also returned. Last year, a multi-purpose art room was opened with a fully equipped ceramics studio.
All of these changes have helped the Mt. Hood Town Hall fulfill its role as a vibrant community center. Today, classes are available nearly every day there, including Pilates, yoga, tai chi, boot camp and children's playgroups. Ceramics classes for both children and adults are also offered.
With past improvements and those to come, Mt. Hood Town Hall supporters hope to bring the community center to a new level of financial stability, so that it can continue to serve its community for many years.
For more information or to make a donation, call 541-352-1078 or visit www.mthoodtownhall.org.