Wednesday, March 30, 2011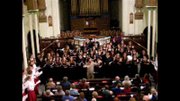 Part 1: The Journey HRVHS Chamber Singers students anticipate their departing flight to England at PDX by singing the A.R. Rahmann piece entitled Zikr, arranged by Ethan Sperry. HRVHS Student Body President Natalie Johnson and friends shares the excitement before take-off. At Chicago's O'Hare airport, an impromptu performance of "Me, Me and None but Me" - by John Dowland, netted $47 in donations from passersby. The funds were given to a charity in England.
UK Tour - Part 2 (sequence of clips): HRVHS Chamber Singers join with the Farnham Youth Choir in a performance of Ubi Caritas. Local students hosted for homestays. At Winchester Cathedral, the group does an "unofficial" performance of Ave Verum, by William Byrd. An additional church in Winchester provided the venue for this performance of Steal Away, arranged by Joseph Jennings with David Rodriguez and Maddy McClean on solos in this clip.