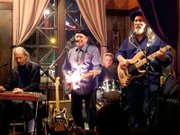 Jazz duo at Maryhill Winery
It's Passport Weekend in the Gorge and Maryhill Winery will feature the jazz music of Heather Keizur and Steve Christofferson on Saturday, April 2, from 1-5 p.m. Heather Keizur, a jazz vocalist who sings in both English and French, is emerging as one of the most unique and gifted singers on the Northwest jazz scene. Steve Christofferson has played the piano in nightclubs and jazz festivals around the world with Nancy King, toured Europe with the Alan Jones Sextet, and performed in China with Mia Nicholson.
Kirkpatrick reads April 5
Author Jane Kirkpatrick will be in Hood River for a book reading on Tuesday, April 5, at 7 p.m. at the Hood River Hotel. Kirkpatrick will be discussing her new book "The Daughter's Walk." The book is a historical fiction book based on the true story of Helga Estby and her daughter Clara who walked 3,500 miles from Spokane, Wash. to New York in 1896. "The Daughter's Walk" weaves personal history and fiction together to invite readers to consider their own journeys and family separations, to help determine what exile and forgiveness are truly about.
Party for HR Waterfront Park
Want to come to a great party for a good cause? On Saturday, April 2, is the annual Spring Splash Party to benefit the Waterfront Park. The party is from 7 till 10 p.m. at Springhouse Cellar and features hearty appetizers from Nora's Kitchen and delicious desserts. Live music will be provided by the Bigfoot Band. A variety of "theme" picnic baskets (ski, windsurfing, bike) will be auctioned off to raise money for new picnic tables, shade trees and other things our park needs. Tickets are $25 and available at Waucoma Bookstore, Waterfront Community Park Association board members or at the door.
Straight Up at CEBU April 1
It's no joke, this April Fools Day CEBU Lounge has Straight Up playing — music starts at 9 p.m. These local boys will be bringing you danceable covers from 80's till today. Playing all kinds of fun music there is just no way to describe. All you need to do is come on down to CEBU and get your Foolish On! Best Western Hood River Inn, 1108 E. Marina Way; 541-386-2200.
Hulett celebrates April 1
The Pines in Hood River has two events on Friday, April 1 starting with the Gorge Artists Premier, from 5-7:30 p.m. Come check out the latest art exhibition featuring a variety of local Columbia Gorge artists. The artists will be mingling and able to chat about their work, their creative process, and their passion. Next, it's Rick Hulett's Anniversary Party, 7:30-10:30 p.m. Come out and help us celebrate the man who helped bring music to The Pines Tasting Room. A music icon here at The Pines, Rick Hulett will be gathering his fellow musicians to rock out for a night of dancing and celebration. On Saturday, April 2, from 6:30-9:30 p.m. it's musician Ron Hughes. "Ron loves crafting truly original arrangements of the best music, past and present. Add the deep resonance of his baritone acoustic guitar played "finger-style" and his rich voice . . . and you have a unique musician worthy of your attention."
Too Slim returns April 23
Gorge favorite alt-country rockers Too Slim and the Taildraggers return to the Gorge on Saturday, April 23, at The Pines Tasting Room. It's going to be a CD release party, so get tickets early. The band will be playing songs from their new album, "Shiver." Music starts at 8 p.m. and tickets are $15 in advance, available at Waucoma Bookstore and The Pines in Hood River.
Strangetones at Trout Lake Inn
On Saturday, April 2, the Trout Lake Inn presents the Strangetones. Based in Portland, the Strangetones are the area's premier Blues, rockabilly and dance band. Cascade Blues Association says this band is the best contemporary act four years running. $7 cover. Music starts at 9 p.m. Trout Lake Country Inn, 15 Guler Road, Trout Lake, Wash.; 509-395-3667.
'Wailing Wind' at Double Mtn.
Singer/songwriter/guitarist Ron Rogers and his band the Wailing Wind will celebrate the CD release of "Country & Eastern" at Double Mountain Brewery on Saturday, April 2. Showtime is 8 p.m. The all-original Americana/alt-country/Texas-rock band, featuring Dave Grafe on pedal steel guitar, will play cuts from the new CD and other highly danceable roadhouse music. Visit www.myspace.com/ronrogerslax for more. Double Mountain Brewery, 8 Fourth St., Hood River; 541-387-0042.
Stingers play April 2
This weekend at Naked Winery: Friday, April 1, 6-9 p.m. Kit Garoutte – Join Kit as he shows his solid musicianship by seamlessly blending his influences into an original, organic sound. It's jazz, rock and new acoustic mixed with inventive songwriting. Saturday, April 2, 7-10 p.m. Franco and The Stingers - Franco's unique vocals and sweet harp playing really standout as does the writing on the catchy tunes you will experience. Sunday, April 3, 5-7 p.m. Kenny Lavitz – Kenny is a gifted artist and rhythmic explorer who blurs the lines between jazz, rock and blues. Along with his compelling original songwriting and sublime vocals, he produces a distinctive sound entirely his own.
Everybody's a fool . . .
April Fools' Day, celebrated on the first day of April, is not a legal holiday, but is widely recognized and celebrated as a day when practical jokes and general foolishness are tolerated. It's a day marked by good humored shenanigans, hoaxes and other practical jokes of varying sophistication on friends, family members, teachers, neighbors, work associates. Here at Everybody's Brewing in White Salmon, we like to rent a karoake machine and let Everybody release their inner rock star. Sound good? Thought so! Join us at 9 p.m. Free Fun!