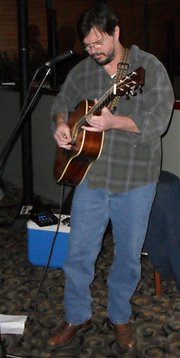 Songwriters series starts
On Friday, April 8, Columbia Center for the Arts announces an intimate evening with three local singer-songwriters — Matt Mesa, Scott Sparks, and Rick Hulett. This trio will trade stories and songs in a quiet, listening atmosphere. You've heard them playing around the Gorge in bands, now experience some fine, local songwriting in an "unplugged" show. This is the first of what CCA hop's will be an ongoing series focusing on songwriting talent in the Columbia River Gorge and elsewhere. The show will begin at 7:30 p.m. and tickets are $5 at the door. For more information visit the center's website at www.columbiaarts.org.
Camus photos on display
The first art exhibit of the 2011 season at The Gorge White House will open Friday, April 1, with photographic works by Claudia Camus. An artist reception will be held on Sunday, April 3, from 1-3 in the afternoon. The Gorge White House is located at 2265 Highway 35, just four miles south of Hood River; 541-386-2828.
Evening of Gershwin April 2
Skamania Performing Arts Foundation will present pianist Thomas Pandolfi in an "Evening of Gershwin" as part of the Stevenson Guest Artist Series on Saturday, April 2, at 8 p.m. at the Columbia Gorge Interpretive Center in Stevenson, Wash. "The young American pianist Thomas Pandolfi is an exciting virtuoso who, with each passing season, is becoming more and more sought after by audiences, and showered with superlatives by critics for his passionate artistry and amazing technique."
Dunnington at HR Hotel
There's acoustic folk music in the lobby of the Hood River Hotel with Connie Dunnington on guitar from 6:30-8:30 on Saturday, April 2. Hood River Hotel, 106 Oak St., Hood River; 541-386-1900.