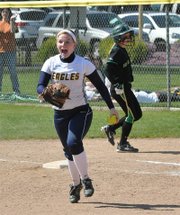 What was supposed to be a three-team race for the Columbia River Conference softball title is now a four-way battle royale.
After two demoralizing losses in Pendleton over the previous week, the Hood River Valley softball team returned the favor on the Buckaroos in a doubleheader sweep Saturday, winning 4-3 and 2-0.
"We had to come in and check ourselves and see what kind of team we really are," HRV coach Eric Keller said. "When we prepare great, good things are going to happen."
Coming into the game the Eagles were the ugly ducklings of the Columbia River Conference. Pendleton was ranked No. 1, and Hermiston and The Dalles-Wahtonka were ranked No. 3 and 4. HRV was ranked No. 19.
The Eagles are still ranked 10 spots lower than Pendleton, but in the standings all four teams are in a dead heat after the first week of conference play, with everyone at 2-2.
"There is no other word besides awesome," said HRV outfielder Erika Enriquez after the Eagles finished the sweep.
In the first game the Eagles got a run in the third to tie the game at one on a Hallie Curtis two-out single and then added three more in the fifth on back-to-back singles by Curtis and Annie Veatch.
"We hit so much more and so much better today," Curtis said.
Pendleton mounted a comeback on a two-run home run by Rayne Spencer in the top of the seventh, but HRV pitcher Kayla Byers induced a pair of pop-ups to end the game.
In the second game the Eagles got a run in the third on a Curtis base hit - the Eagles' only hit of the game, off Marissa Jones - and added another in the fourth on an error.
That would be more than enough for Byers. The freshman kept Pendleton baffled for most of the game after allowing a pair of singles to open the game. She went on to allow three hits the rest of the way and strike out seven to get the win.
"It's a big accomplishment, especially after last year," HRV catcher Logan Bailey said.
The Eagles were also efficient in their victories, clocking in the two games in roughly a combined two hours and 20 minutes.
"You have to celebrate a big sweep like this," Keller said. "I told them to celebrate tonight and enjoy the sunshine and to begin the preparation process Sunday and then Monday and Tuesday we are going to prepare well."
The Eagles face Hermiston at home today in the first step toward breaking the four-way tie in the league standings, and then head to Hermiston this weekend before hosting the Bulldogs again next Tuesday.
"We've got to put a streak together to put ourselves in position for some great playoff seeding," Keller said. "As long as we can keep winning and play good softball we'll do that."