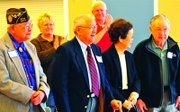 Drenching rain in the days following might make it hard to get out and appreciate the good work done by your Hood River County neighbors Saturday.
Service on Earth Day brought out numerous volunteers to downtown Hood River, Hood River Waterfront Park and Indian Creek for clean-up and streamside restoration projects. Their efforts are there for all to see.
Waterfront Park received a thorough weeding and sprucing up, downtown sidewalks and the Georgiana Smith Park are looking far better and Indian Creek got a green hand.
Kudos to the folks who came out and spent an hour, a morning, or a whole day making their world a little better.
Yes, it was a prime sunny day, but this being Hood River, it's a sure thing that a sizeable crew would have shown up in boots, parkas and rain hats rather than T-shirts, sunglasses and shorts that were standard Earth Day attire on Saturday.
Port Executive Director Michael McElwee swept sidewalks, while his wife, Kathryn, weeded the library flower beds and their sons Christopher and Connor helped out as well.
A few blocks away, between Third and Fourth streets, Police Chief Bruce Ludwig, civil engineer Dave Bick, and Hood River News Publisher Joe Petshow weeded, cut back ivy and swept the sidewalks.
McElwee joked that in a previous volunteer cleanup at the library park, a passerby remarked that volunteers should wear identification that they are there of their own volition so they don't get mistaken for a corrections department crew, which often does cleanup at the same location.
The prize for oddest "find" probably should go to Emmy Foster of John L. Scott Real Estate, who found a dead rat in the weeds along State Street.
"LOTS of weeds - and plenty of cigarette butts and condom wrappers," Foster said.
All part of the fun on a day when people set aside normal recreation (and even their home yard projects) to give back to the community.
The popular Indian Creek trail will also look different now that new plantings are bolstered by mulch intended to keep them moist in the coming dry months. Indian Creek Stewards and Pacific Corp. sponsored Saturday's work party.
All over town, people pitched in. Marge Gale, who organized the Waterfront Park work party, said, "It's amazing how many people have come out today to help."
Many of the park volunteers give of their time throughout the year, through the successful Adopt-A-Plot program that sustains the park, supplementing the limited park maintenance done by city crews.
"It just shows how the community has taken ownership of what used to be just a lot full of dirt," said Gale.
This is the beauty part: at the park, it was hard to tell who was there to work and who was there to play. Sometimes it was both.
What gladdened the hearts of all those working along the riverfront planting beds was the sight of 15 young children in a "birthday party bicycle parade" led by birthday boy Noah Slayton, 4. (See page A11.)
This is the essence of what the park is meant to be: people of all ages communing with each other in a scenic open space.
Folks were just there to help, or to help enjoy it.
On that note, an odd kind of correction should be noted, connected to Saturday's good works:
On page A1, that's Rotary's Janeane Szidon, helping with Saturday's downtown