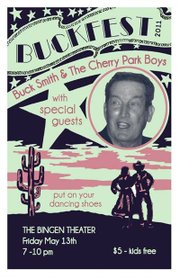 Music Mondays at Solstice
Music Mondays continue at Solstice Cafe with local musicians every Monday night from 6-8 p.m. May 9: Bob Connolly with White Salmon teen art show starting at 4 p.m.; May 16: Joel Valle; May 23: Richard Tillinghast; May 31: Special Memorial Day musician TBA. No cover charge. Solstice Wood Fire Cafe, 415 W. Steuben, Bingen, Wash.; 509-493-4006.
'All My Sons' opens May 12
Arthur Miller's "All My Sons" opens at the Columbia Center for the Arts in Hood River, (215 Cascade Ave.) on Thursday, May 12, at 7:30 p.m. There will be a reception featuring the Western Antique Aeroplane & Automobile Museum beginning at 6:30 p.m. The play continues on May 13, 14, 19, 20 and 21 at 7:30 p.m. with a matinee on May 15 at 2 p.m. The play tells the story of an American family caught up in the struggle between personal and moral responsibility. Set in 1947, Joe Keller, hurriedly trying to meet an order from the Army, knowingly sends defective cylinder heads used in aircraft engines that later cause the planes to crash and kill 21 pilots. The play is not about a crime, but about a man's failure to understand the terms of the social contract. Roles are beautifully executed by Tom Burns, Irene Fields, Gregory Baisden, Lisa Roth-Baisden, Reuben Betts, Bruce Ludwig, Kathleen Morrow, David Rodriquez, Shirlyn Betts and Tyr Anderson. Tickets are $15 for adults, $12 for students and seniors, $8 for children 11 and under and $10 for groups of 10 or more and are available at Columbia Center for the Arts and Waucoma Bookstore in Hood River or online at www.columbiaarts.org.
'Atomic' at Ananas May 7
Live Zydeco music featuring the three-piece Louisiana band "Atomic Gumbo" will be at Ananas Boutique & Copacabana in The Dalles on Saturday, May 7, from 6-9 p.m. This event is for ages 21 and over, and there is a $10 cover charge. Ananas Boutique, 414 E. Second St., The Dalles; 541-296-1110.
#1 Elvis onstage May 14
The World's #1 Ultimate Elvis, Justin Shandor, will be onstage with his rock and roll band and the 50-piece Columbia Gorge Sinfonietta on Saturday, May 14, at 7 p.m. at Hood River Middle School. General admission tickets are only $20 and are available at Waucoma Bookstore in Hood River and Columbia River Music in The Dalles; or go to www.brownpapertickets.com. This concert is a benefit for the Columbia Gorge Orchestra Association.
'Northstar' returns May 12
The Northstar Session returns to Hood River on Thursday, May 12, making a stop at the Waucoma Club. The Northstar Session, a rootsy folk-rock band from Los Angeles, can be heard on radio stations around the country, most recently being played on Portland's KINK-FM. The band just released a new CD, "Late Bloomer," which adds to the list of critically acclaimed projects, including "New Prehistoric Times" and "Winter Collection."
Buck Smith in concert May 13
Gorge guitarist Buck Smith, 84, will celebrate music with his band the Cherry Park Boys (Bobby Morris, drums, Floyd Ferrell, pedal steel, and Tex Stephenson, bass) and friends on Friday, May 13, at the Bingen Theater, from 7-10 p.m. Expect an evening of country dance tunes in the style of Merle Travis and other great guitarists from the 1940s and 1950s. All ages show, $5 cover, kids are free.
Williams, more at HR Hotel
Fiddle players Andrew and Deanna will be making an appearance at the Hood River Hotel on Friday, May 6, from 5 to 6:30 p.m. showcasing some swing, jazz and Texas-style fiddle tunes, and then Kerry Williams will be in the lobby until 8 p.m. On Saturday, May 7, it's folk music from Connie Dunnington from 6:30 to 8:30 p.m. Hood River Hotel, 106 Oak St., Hood River; 541-386-1900.
Al Stewart tickets on sale
Grammy-nominated and platinum-selling recording artist Al Stewart, best known for his songs "Year of the Cat," "Time Passages" and "On the Border," comes to the Columbia Gorge Interpretive Center in Stevenson, Wash., on Saturday, May 14, at 8 p.m. This special acoustic evening will feature guest guitarist Dave Nachmanoff. Seating is limited. Tickets are $25, available at 800-494-TIXS or www.SkamaniaArts.org. The concert is presented by the Skamania Performing Arts Foundation.
Schifter, more at The Pines
The Pines in Hood River hosts the Kerry Williams and Friends Jam every Thursday, 6:30-9:30 p.m. Join Kerry Williams and his musical compadres as they rock The Pines with their impromptu solos and smooth vocals. On Friday, May 6, Henry Schifter and Company play from 5:30-8:30 p.m. Be sure to check out the new art exhibition featuring "The Urban Landscape" while listening to renditions of some of the best jazz songs in English and French. On Saturday, May 7, Joel Valle plays from 6:30-9:30 p.m. If your interest is in amazing guitar musicians, Joel will not disappoint — a perfect combination of raw talent and finesse.
Preston Shannon plays May 14
Squrl Music Presents international blues favorite Preston Shannon at The Pines Tasting Room in Hood River on Saturday, May 14. Show starts at 8 p.m. and tickets are $15 in advance. Guitarist Preston Shannon has been described as "a cross between Otis Redding and Bobby Womack" and is a fixture on the Memphis music scene. Show is 21 and over only.
Connolly at Naked Winery
Friday, May 6, 4-7 p.m. Kit Garoutte — First Friday is back and let's hope it's a sunny day so we can sit out and relax with Kit and his jazz, rock and new acoustic mix.
Saturday, May 7, 7-10 p.m. Bon Connolly — Rocking country at its best, a favorite is back for what promises to be a great night of music.
Sunday, May 8, 5-7 p.m. Swing Crew — This local group plays danceable treats every other Sunday at Naked Winery.
Mondays, 7-10 p.m. Naked Winery's open mic/Jam hosted by Les Vaughn.
Brooke Parrott at CEBU May 6
Oregon native Brooke Parrott is a storyteller in the truest sense of the word, deftly steering an immense voice through the soulful Americana it inhabits. Since self-releasing her debut album, "Another City," in 2008, Parrott has been honing her songwriting in London, where she shared the stage with the likes of John Parish, Darrell Scott and Kim Richey. Brooke makes a stop in Hood River on Friday, May 6, at CEBU Lounge, starting at 9 p.m. Country artist Chris Marshall is also on the bill.
Entertainment listings can be e-mailed to jdrake@hoodrivernews.com