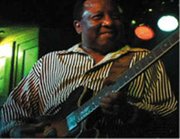 Pretenders Theater 'One acts'
The Pretenders Theater Company in Lyle, Wash., presents three one act plays, "Bad Street," "Ticket Please," (both original plays by Dave Owens) and "The Lighthouse Keeper's Daughter" on Saturday, May 14 and May 21. The Lighthouse Keeper's Daughter has a villainous suitor who plots to gain her father's money and then to slay him. He accomplishes his purpose and escapes. The attempted murder is discovered by his wife in time for the young heroine to bring aid in the person of the handsome doctor, who saves the keeper's life and wins the daughter's hand. Tickets are $20 (adult) and $10 (children) in advance at Klindt's Booksellers and St. Mary's Academy in The Dalles. (Tickets at the door are $25/$15). Price of ticket includes lunch or dinner. The early show starts at 2 p.m. ( 1 p.m. lunch) and the evening show starts at 7 p.m. ( 6 p.m. dinner). The venue is the Columbia River Grange Hall (Lyle) just off of Old Highway 8 on Columbia Grange Road. For more information visit www.pretenderstheatrecompany.org.
Country Dance May 14
The Second Saturday Country Dance happens May 14, from 7-10 p.m. at the Rockford Grange. The caller will be Sue Baker and the band will be the Trout Lake String Band. Dance lessons will begin at 7 p.m. All ages welcome. No partner required and this is a family friendly event. All dances walked through first time. Enjoy an evening of country squares, contras, circle dances and a few waltzes. $6 for members, $7 for non-members, $1 for youth 16 and under. Please note: There's a potluck starting at 6 p.m. — please bring a dish and plate settings. Call Keith Harding at 541-352-7550 or Tom Hons at 541-386-5771 for further information.
Howlin' Woods play May 20
The Howlin' Woods, hailing from Santa Barbara, are on tour and making a stop at the Trillium Cafe in Hood River on Friday, May 20. Stateside Magazine says "This group's mix of blues-rock and soulful vocals shines through on tracks like "Students of Life," a seven-minute ballad where frontman Jordan Chetakian's soothing voice mixes with earnest, folksy arrangements." Check out more at www.howlinwoods.com.
Lolo Mo plays The Dalles
Lolo Mo is performing from 7-10 p.m. at the historic Sunshine Mill in The Dalles on Friday, May 13. The band has expanded to include the heartfelt lead and harmony vocals of Karen Enns and saxophonist extraordinaire Pat Driver, noting that these contributions "lift the band to new levels of expression."
Blues, more at The Pines
Quench your thirst and musical cravings Thursday night at The Pines. Join Kerry Williams and his musical compadres as they rock The Pines Tasting Room with their impromptu solos and smooth vocals. You never know who will show up to play, so come and be surprised. On Friday, May 13, it's the music of Portland singer-songwriter Matt Brown from 6:30-9:30 p.m. On Saturday, May 14, Squrl Music Presents international blues favorite Preston Shannon. Show starts at 8 p.m. and tickets are $15 in advance. Guitarist Preston Shannon has been described as "a cross between Otis Redding and Bobby Womack" and is a fixture on the Memphis music scene. Show is 21 and over only.
Mike Coykendall at CEBU Lounge
This Friday, May 13, Cebu Lounge presents Mike Coykendall & the Golden Shag - their first time in Hood River. You may know Mike as the guitarist in She & Him and the founder of SF's Old Joe Clarks, but he is also a well known producer, having played with She & Him, M. Ward, Bright Eyes, Gillian Welch, Blitzen Trapper, Richmond Fontaine and many others.
Entertainment listings can be e-mailed to jdrake@hoodrivernews.com