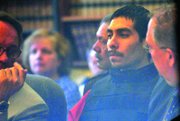 Surrounded by a courtroom filled with friends of his victim, Jairo "Andy" Vicente, prime suspect in the Sept. 10, 2009, murder of Vagabond Lodge owner Jerry Cranmer, appeared in the Hood River courtroom of Judge William Crowley on May 4 to enter a plea and receive sentencing.
Vicente pleaded guilty to, and was convicted of, a single charge of aggravated murder and a second charge of robbery in the first degree with a firearm. This was in accordance with an agreement negotiated on April 27 between Hood River County District Attorney John Sewell and Vicente's attorneys, Gordon Mallon and Mark Radar.
The sentence for the robbery charge carries a minimum of 90 months incarceration. The aggravated murder charge, the most severe charge possible for Vicente's crime, carries a sentence of life in prison, with a possibility of parole after 30 years.
As a result of Sewell's negotiations, Vicente agreed to sentences being imposed consecutively, ensuring that he will serve a minimum of 37 years and six months, prior to receiving a parole hearing.
Vicente, in an orange prison jumpsuit and black bullet-proof vest, sat at the defendant's table unmoving, staring forward throughout the proceeding, flanked by his two attorneys.
Sewell sat alone in the opposing table before Crowley. Numerous law enforcement personnel from the Hood River City Police office and the Hood River County Sheriff's office stood in attendance throughout the proceeding.
The hearing also served as an opportunity for friends and family of Cranmer to speak to the court and provide public testimony on the impact of Cranmer's murder and on his loss to the community.
From the more than 30 Cranmer supporters in the courtroom, six stepped forth to speak. Two written letters were also read by one of the speakers.
Each speaker shared extensively about Cranmer's personal qualities and contributions to the community. He was repeatedly referred to as kind, compassionate and generous. Many noted the numerous people in need that Cranmer had helped provide housing for and, in some cases, employment.
Grant Polson, Cranmer's nephew, spoke on behalf of the family with intense emotion, noting that Cranmer, given his kindness, would have even helped the murderer if he would have asked for help.
Voicing both grief and anger, Polson spoke of the family's tragic loss and their feelings about the acts Vicente committed. Many visitors became emotional during his testimony.
While facing Judge Crowley, Paulson said in a most forceful voice, "We will never forget you or forgive you. We will work to keep you in prison for the rest of your existence."
Cranmer's son, Charlie, who was 16 at the time of his father's death and who found his body immediately after the crime, did not speak in court.
Longtime friend of Cranmer Mary Gumm spoke following Polson and expressed appreciation to the court and district attorney's office for bringing justice and closure to the victim's loved ones.
With emotions running high, two of the later speakers made commentary that prompted Judge Crowley to issue rebukes.
Crowley, acknowledging a loss he personally experienced as a result of a criminal drunk driver, empathized with the family and friends' extreme grief but then drew a clear line at attacks on the perpetrator's defense attorneys. He also emphasized that a trial is not a time for "a public flogging," but rather for the calm issuance of justice.
One speaker, Jane Crowne, following her own testimony and a reading of two letters submitted for recitation, turned to Vicente and said, "I have been looking for some kind of remorse in your face."
Remaining completely motionless throughout the sentencing Vicente finally rose, following testimonials from all six speakers, and read a self-composed letter to the court and victim's family.
"I would like to apologize for being a participant in the murder of Jerry Cranmer," said Vicente, who, in simple language, also acknowledged taking the life of a good father, friend and community member. He concluded by saying, "I am paying for this with my life."
Vicente's attorney Mallon stood up alongside his client and noted that Vicente composed the letter himself and wanted to read it himself, rather than having his attorneys present it.
Just prior to the final court actions, Crowley noted that even with a parole possibility, Vicente's mandated minimum of 37-plus years of incarceration "will equate to a lifetime."
"You were 23 years old at the time of the crime. You have no prospect to get out for 37 and a half years. Sixty years old is old, very old, in prison."
At the conclusion of the hearing, Vicente briefly turned to look into the face of his only attending family, his brother Walter Vicente, who stood in the front bench row holding his small daughter. Vicente's eyes lingered for a moment on the eyes of his toddling niece as he was ushered out through the courtroom's back door toward his long incarceration.
Cranmer's friends and family lingered in the courtroom, gathering together to exchange gestures of comfort, condolence and shared communal loss.
In response to the conclusion of the 31-month investigation and ultimate conviction of Vicente and his two accomplices (Marlene Zarate and Claudia D. Escoto) in the robbery and murder of Cranmer, Sewell issued the following statement:
"I am grateful that the persons who committed this terrible, senseless crime have been brought to justice. I want to publically acknowledge and thank Sheriff's Detectives Matt English and Gerry Tiffany for their hard work and dogged determination in solving this case.
"I'd also like to thank the many agencies who assisted in this effort, including Det. Andy Frasier of the Hood River Police Department, Det. Lori Rosebraugh of the Oregon State Police, the Skamania and Klickitat County Sheriff's Department and the U.S. A.T.F. Bureau."
Sewell, noting the consecutive sentencing detail within the negotiated agreement for Vicente's conviction said, "I wanted to ensure that the full sentence would be imposed and that the department of corrections would be locked into it.
"I didn't want changes in the law 20 years down the road to change the amount of time he would be required to serve."