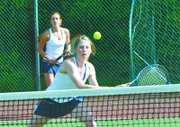 Now comes the hard part.
Both Hood River Valley teams knew they were getting into a tough league this spring, but now they can find out whether they are tough enough to get some players through to state.
The HRV girls will be traveling to Hermiston while the boys head to Bend. Both will have an equally tough road. The doubles in the 5A special district are some of the best in the state, on both the boys and girls sides.
"So many good players are going doubles," HRV girls coach Leslie Kerr said. "But the singles are more wide open."
The Eagle girls closed out their season with a 5-3 win over a Hermiston team that jumbled its lineup, including putting its top doubles team at singles and sending its No. 2 doubles team against HRV's No. 1 team of McKenzie Kerr and Kirra Paulus.
Kerr and Paulus got the win after rallying back from a deficit in the second set, which they said gives them a boost of confidence heading into the district.
"That last match was a good sign because we were able to come back," McKenzie Kerr said.
Kerr and Paulus made it to state at the 6A level last year and are hoping for a return trip this season.
They know the journey is going to be a hard one this year, but are confident they can go far at state - if they can get out of the district tournament first.
"If we can get through this we can get through anything," Paulus said.
With so many of the top players teaming up for the doubles tournament, the singles side figures to be a free-for-all with HRV No. 1 and No. 2 players Frances Burns and Celine Lentz figuring to have as good a chance as anybody.
The pair have rotated through the No. 1 and No. 2 spots this season, or No. 2 and No. 3 when Kerr has occasionally moved over to singles.
In the matches that they have not won this season both Burns and Lentz have been close and they figure that anyone can beat anyone else on any given day in the league.
"I think everyone is on the same level," Burns said. "If we are on (at district) we will be golden."
"The matches we've played could have gone either way," Lentz added.
All of the Eagles' top doubles and singles teams are seeded for the doubles tournament, meaning they get to skip Monday's opening round.
The HRV boys team was not so lucky, with a 7-1 loss to Hermiston; sealing unseeded spots for even its top teams.
"A successful tournament for us would be getting three guys to state," HRV coach Jon Hiatt said.
The three likeliest candidates are Josh Ziegner in singles and Jon Goatcher and Luke Ihle in doubles.
All of them will have as equally tough a path as the girls; made even harder by the fact they have to play an extra match Monday morning.
Many of the matches they have lost have been close, and Goatcher and Ihle are hoping to turn lessons learned to their advantage at the district tournament in Bend.
"We know we can beat some of the teams that are seeded," Ihle said. "We just figured it out too late."
Goatcher said the duo often struggled in its first sets, which left an uphill battle.
"We have to come out hard," he said. "We've been good second-set players."
Even though he wound up unseeded, Ziegner is still one of the league's better singles players.
"There are really three top guys," Hiatt said. "Then that fourth spot is up for grabs."
That fourth spot is what Ziegner has his eyes on.
"I've just got to prepare for what lies ahead," he said.
At the end of Tuesday the two HRV teams could potentially have seven or more players headed to state, or they could have zero. That is how hard the special district league has proven to be, with all of the top players able to beat each other.
The Eagles will have an extra test, coming off prom weekend.
However they hope to set the distractions aside and maybe grab a few state spots in the process.
"We'll just do our best," Lentz said. "And we'll see what happens."