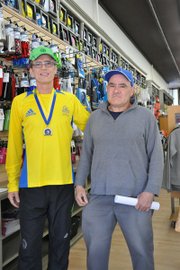 Rick Jones entered his sixth decade on Earth April 12. A few days later he was running faster than he had before in previous 59 years.
The Hood River resident auto-qualified for next year's Boston Marathon when he finished the annual race in 3:33.44, good for 52nd in his age group.
That wasn't even the most impressive part of the whole matter.
Jones' bib number was 16076. That meant 16,075 people started in front of him. He passed nearly 8,000 of them on his way to the finish line to finish in 8,722nd place.
Not bad for a guy who just 10 years ago could barely make it up Hood River's downtown steps.
"When I turned 50 I walked up the steps for my birthday and felt like that scene in 'Rocky' in Philadelphia," Jones said.
Jones then set about conquering his own Clubber Lang. He began walking constantly, then running, then running up and down Hood River's numerous hills and moving onto 5 and 10K races and joining the Columbia Gorge Running Club.
A few years ago he began running the Portland Marathon.
"Each time was a little better," he said.
From Portland he moved on to Boston, or as Jones calls it, "The Super Bowl of running."
This year Jones found himself in the perfect starting position, where there were enough people in front of him to prevent him from starting too fast, but enough catchable runners to provide an incentive.
Once he got going, he found the hills in Boston, particularly the supposedly brutal "Heartbreak Hill," to be no match compared to what he had been training on back home.
He began catching and passing numerous runners who had fast times on flatland, but no way to train for the hills.
"All the poor flatlanders had no way to duplicate those hills in their winter training," he said.
While the Midwestern runners were suffering, Jones was having the time of his life.
"I love marathons with a lot of hills," Jones said. "If it was flat I would be bored to tears."
Jones was planning on this marathon being his last in Boston, but because he put up such a good time and auto-qualified for next year's race, he's going back again.
"There is a lot in Boston we didn't get to see," he said.
He gets to be among the first to register for the race next year, which means he will be closer to the front of the pack.
With so many racers behind him, he may just keep dropping his time as he ages another year.
"I'm feeling good," he said. "My knees are still feeling good."
Jones still is not quite sure how he went from barely being able to walk the Hood River stairs to proudly walking around town with his Boston Marathon jersey on, but he does know that he has enjoyed the ride.
"Ten years ago I was more of a 10-yard guy," he said of his former top running distance. "Today I'm a mini-celebrity."