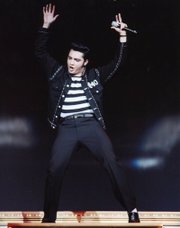 'Stingers' at Naked Winery
Friday, May 13, 4-7 p.m. Kit Garoutte — Relax with Kit and his jazz, rock and new acoustic mix. Saturday, May 14, 7-10 p.m. Franco and the Stingers — Since breaking into the Portland blues scene in the mid-'80s, Franco Paletta has become one of the mainstays of city's blues fans. His dynamic harp style and unique vocals have made him a frequent player at Naked Winery. Sunday, May 15, 5-7 p.m. Ben Bonham — Ben's guitar playing is rooted in the music of pre-radio America when all music was live and styles weren't pigeonholed. Catch him playing country blues, ragtime, vintage swing, Delta blues, folk, jazz, old-time country and Hawaiian. Mondays, 7-10 p.m. Naked Winery's open mic/jam hosted by Les Vaughn.
Stillman plays HR Hotel
The Hood River Hotel has music on Saturday, May 14, with Kay Floria and Polly Norris playing from 6:30 to 8:30 p.m. There's jazz from Mike Stillman and Dave Henehan with friends on Saturday, May 15, from 6:30 to 8:30 p.m. Local band the Hapa Hillbillies play on Monday evening from 6:30 to 8 p.m. in the lobby. Hood River Hotel, 106 Oak St., Hood River; 541-386-1900.
Tillinghast at Brian's May 20
Folk musician Richard Tillinghast will be playing a regular show at Brian's Pourhouse in Hood River on the third Friday of the month, starting May 20. Join Richard with guitar, banjo and Tova Cochrane on cello from 7-10 p.m. Brian's Pourhouse, 606 Oak St., Hood River; 541-387-4344.
Chervona returns to Everybody's
"Wild Eastern European style" best describes the dance band Chervona. The Northwest's favorite party band returns to Everybody's Brewing on Friday, May 13, at 9 p.m. Get ready for old-world magic and a dance floor of mad-capped delight. Everybody's Brewing, 151 E. Jewett Blvd., White Salmon, Wash; 509-637-2774.
'Feast of Words' benefit May 14
Eat, drink and dance at the Hood River County Library? For one night only, leave your whisper at home and whoop it up at "Feast of Words," a benefit for the Library Foundation's Early Opening Fund. Music will be provided by the Hood River Hot Shots — traditional jazz and good-time blues featuring many of the finest players in the Gorge. Tickets are $25 and include sumptuous desserts and local wines. Proceeds will go toward opening the library on July 1. Saturday May 14, at 7 p.m. at the Hood River County Library.
Victor Johnson kids show
Kids music specialist Victor Johnson will be playing this Saturday, May 14, in the The Dalles City Park for the free children's fair at 11:30 a.m. Victor reports that there will be all kinds of cools stuff for kids, including free music CDs to each family that attends, courtesy of the Commission of Children and Families. The Dalles City Park, Sixth and Union streets, The Dalles.
#1 Elvis onstage May 14
The World's #1 Ultimate Elvis, Justin Shandor, will be onstage with his rock and roll band and the 50-piece Columbia Gorge Sinfonietta on Saturday, May 14, at 7 p.m. at the Hood River Middle School. General admission tickets are only $20 and are available at Waucoma Bookstore in Hood River and Columbia River Music in The Dalles or go to www.brownpapertickets.com. This concert is a benefit for the Columbia Gorge Orchestra Association.
Country Dance May 14
The Second Saturday Country Dance happens May 14, from 7-10 p.m. at the Rockford Grange. The caller will be Sue Baker and the band will be the Trout Lake String Band. Dance lessons will begin at 7 p.m. All ages welcome. No partner required and this is a family-friendly event. All dances walked through first time. Enjoy an evening of country squares, contras, circle dances and a few waltzes. $6 for members, $7 for non-members, $1 for youth 16 and under. Please note: There's a potluck starting at 6 p.m. - please bring a dish and plate settings. Call Keith Harding at 541-352-7550 or Tom Hons at 541-386-5771 for further information.
Preston Shannon plays May 14
Squrl Music Presents international blues favorite Preston Shannon at The Pines Tasting Room in Hood River on Saturday, May 14. Show starts at 8 p.m. and tickets are $15 in advance. Guitarist Preston Shannon has been described as "a cross between Otis Redding and Bobby Womack" and is a fixture on the Memphis music scene. Show is 21-and-over only.
Music Mondays at Solstice
Music Mondays continue at Solstice Cafe with local musicians every Monday night from 6-8 p.m. May 16: Joel Valle; May 23: Richard Tillinghast; May 31: Special Memorial Day musician TBA. No cover charge. Solstice Wood Fire Cafe, 415 W. Steuben, Bingen, Wash.; 509-493-4006.
Pretenders Theater 'One acts'
The Pretenders Theater Company in Lyle, Wash., presents three one act plays, "Bad Street," "Ticket Please," and "The Lighthouse Keeper's Daughter" on Saturday, May 14 and May 21. Tickets are $20 (adult) and $10 (children) in advance at Klindt's Booksellers and St. Mary's Academy in The Dalles. (Tickets at the door are $25/$15). Price of ticket includes lunch or dinner. The early show starts at 2 p.m. ( 1 p.m. lunch) and the evening show starts at 7 p.m. ( 6 p.m. dinner). The venue is the Columbia River Grange Hall (Lyle) just off of Old Highway 8 on Columbia Grange Road. For more information visit www.pretenderstheatrecompany.org.