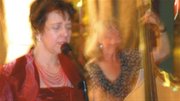 Blues band at Ananas May 28
Ananas Boutique and Copa Cabana in The Dalles hosts the Richard Wilkinson Blues Band — dancing to your favorite songs and more — on Saturday, May 28, from 6:30 to 9 p.m. 21-and-over, $5 at the door. Ananas, 414 E. Second St., The Dalles; 541-296-1110.
Juni Fisher concert May 30
2009 Western Music Association Female Performer of the Year Juni Fisher comes to Springhouse Cellars in Hood River on Monday, May 30. Fisher will hold a songwriting workshop from 2:30-4 p.m., a meet-n-greet from 4-4:45 p.m., and the concert starts at 5 p.m. Workshop tickets are $20, concert tickets are $18 (kids under 12 free), available online at www.gorgemusicseries.com. "Juni Fisher's original music brings history alive in her songs of complex characters with stunning images of the life and landscape in the west. Her unique melodies can transport you bringing tears to your eyes as she sings stories of another place in time."
Scenic Area events celebrated
On Tuesday, May 24, a kickoff event for the Columbia Gorge National Scenic Area 25th anniversary celebration takes place with Peter Marbach and Janet Cook's book release, signing and slideshow at the Columbia Center for the Arts. The event begins at 6:30 p.m. with a 7 p.m. slideshow and lecture on their new book "Columbia River Gorge National Scenic Area: 25th Anniversary Commemorative Edition." Admission is free.
'All Stars' at HR Hotel
Suzie Sinclair and the Gorge All Star Band will be mixing it up and having some fun on Friday, May 20, from 6:30 to 8:30 p.m. in the lobby of the Hood River Hotel. Mike Stillman and Friends will be playing Saturday, May 21, from 6:30 to 8:30 p.m. The Hapa Hillbillies will play on May 23 resuming their Monday night show from 6:30 to 8:30 p.m. in the lobby. Hood River Hotel, 106 Oak St., Hood River; 541-386-1900.
Ron Carroll benefit, celebration, May 20
A benefit party to help Gorge resident Ron Carroll with medical costs from a serious and prolonged illness will be held Friday, May 20, from 7-10 p.m. at Springhouse Cellar in Hood River. Carroll is an EMT and is Mosier's 2009 Firefighter of the Year. There will be a silent auction, snacks and music by "The Playboys" (Ben Bonham, Kerry Williams, Henry Schifter, Paul Lestock and others). A percentage of beer and wine sales will be donated by Springhouse Cellar. The event is sponsored in part by Mosier Fire Department.
'Terra Tempo' reading May 21
Author David Shapiro will be discussing his new children's graphic novel "Terra Tempo," which is the story of three young adventurers who time travel back 15,000 years and learn about the Missoula Floods. The presentation will include information about the Missoula Floods and a behind the scenes look at how the graphic novel was created. Children who attend will receive a free "Terra Tempo" coloring book to take home with them. Saturday, May 21, 3:30 p.m., White Salmon Library.
Tyler Fortier plays May 21
Don't miss a performance by prolific Eugene troubadour Tyler Fortier at White Buffalo Wines in Hood River on Saturday, May 21, at 7 p.m. Just back from Austin's SxSW festival, Fortier's new album "Fear of the Unknown" is just been released. Check out the promo video at www.youtube.com/watch?v=HsjjD6p50h0.
Gypsy Balladeer is back May 21
The unique and soulful Gypsy Balladeer Spruce Baugher plays the Thirsty Woman Pub in Mosier on Saturday, May 21, from 7-9 p.m. Thirsty Woman Pub, 206 Main St, Mosier; 541-490-2022.
Entertainment listings can be e-mailed to jdrake@hoodrivernews.com