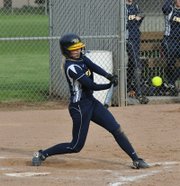 It was the hardest a Hood River Valley softball player had hit a ball all night, driving in the winning run, and driving home the point the Hood River Valley softball team had its swagger back.
Hallie Curtis' ringing double off the centerfield fence in the fifth inning gave the Eagles 10-0 win in five innings over Milwaukie in a Round of 36 play-in game Tuesday afternoon in Hood River and got the Eagles within one win of the state playoffs.
"At the beginning of the game we emphasized coming out hard and not having as much to do at the end," said HRV first baseman Natalya Ames, who drove in three of the HRV runs.
The Eagles jumped all over Milwaukie pitcher Nicole Bugliari from the outset.
The Eagles got on the board with an Annie Veatch single in the first inning and never let up.
The Eagles took advantage of everything the Mustangs gave them, scoring three runs on sacrifice groundouts and three more on errors as they built up their lead.
"We got the runner on, got her over and then scored," HRV coach Eric Keller said.
HRV pitcher Kayla Byers did her part, shutting down the Milwaukie offense and allowing one hit and a walk while striking out five over five innings.
Ames drove in three of the Eagle runs with a single and a groundout while Hannah Williams, Annie Veatch and Curtis drove in one each.
The ten runs gave the Eagles 22 in two games after beating Mountain View 12-6 Monday and gave them some confidence after being swept by The Dalles-Wahtonka to end the season.
"After getting swept by the Dalles this definitely helps us go into the playoffs more even headed," Ames said. "We've worked hard to accomplish these things and everyone from the team has put in their work to get us here."
The Eagles play at Wilson Friday. The Trojans won the PIL regular season title, and is ranked No. 23 in the OSAA power rankings. HRV is ranked No. 13. Wilson finished the season 14-10 overall.