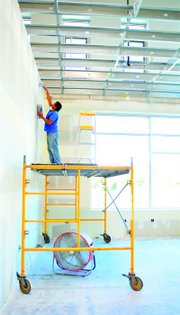 Real Carbon and the Port of Hood River are working on an early June move-in date for the company in a section of the recently-constructed Halyard Building at the Hood River waterfront. The company, located in Hood River since 1991, will take 5,000 square feet or about a quarter of the building. Tenant improvements are currently in progress and are expected to be completed within the next month.
"We needed more space," said Mike Graham, Real Carbon President. "The company has grown by about 600 percent in the last four years."
The company's current location at 405 Columbia Street served it well for years, but with growing production came the need for more space to work; and, although places like Double Mountain and Full Sail breweries, DaKine and Hood River Cinemas made great neighbors, Graham said his business was looking for a more industrial location to expand to.
Real Carbon specializes in designing and manufacturing custom carbon fiber parts for a variety of local and international businesses. Its products are used for their strong and lightweight properties.
A brief history of Real Carbon (from www.realcarbon.com):
"Real Carbon Inc. started, in California, with a dream of lightweight, super strong and very fast Windsurfing boards. Karbon Kreations, as the company was originally called, built the world's first pre-preg carbon fiber board in 1988. Today, twenty two years later, the founding members, Wes Lapp, Chief Engineer and Mike Graham, President, own and operate the company, now called Real Carbon Inc., which is based in Hood River, Oregon. Graham, originally from St. Andrews in Scotland, moved to the US in 1987. Mike is a Chemist with an Honors degree in Chemistry from the University of London. He is currently serving as President of Real Carbon Inc. He lives in Camas, Wa., with his two teenage children and wife of twenty years. Wes Lapp serves as Chief Engineer and currently oversees the production dept. at Real Carbon Inc. Lapp lives in Hood River with his daughter and wife, enjoying a life in the Hood River valley. Wes earned an Aerospace Engineering B.S. degree from the Georgia Institute of Technology in 1987.