Wednesday, November 2, 2011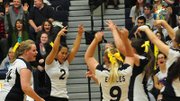 Nothing much was left to be settled for the Hood River Volleyball team against The Dalles-Wahtonka Thursday night other than to win.
The Eagles had already locked up second place in the league standings and a senior night victory over The Dalles Wahtonka would lock them into their place in the 5A rankings and avenge a loss to The Dalles in Hood River earlier this month.
So win they did, by a 3-1 margin.
HRV rolled out a lineup of almost all seniors for its first two games.
The Eagles saw TDW rally to tie up the opening game at 17-17, but the Eagles put together an 8-2 run to win the game 25-19.
TDW responded by winning the second game by the same score before the Eagles rolled to a 25-14 victory in the third game.
In the fourth game, TDW jumped out to an 8-1 lead before HRV got rolling and the Eagles outscored the Eagle-Indians 24-9 the rest of the game to close out the match.
It was the final regular-season appearance by HRV seniors Logan Bailey, Shelby Carter, Myrthe Dijkstra, Courtney Harvey, Alex Knickerbocker, Tracy Mok and Katlynn Smith.
"They are the glue," HRV coach Scott Walker said of his senior group, which includes the team's leading setter and its best passers.
"They mean everything to us," Walker said of the seniors. "My two leading hitters are juniors but they can't get the ball without all the great passes."
The Eagles finished the regular season 9-7 overall, 7-5 in league. They are ranked No. 19 overall at 5A and seventh in the North region, and will host Wilsonville, the No. 10 North team (No. 23 overall) Tuesday in the state play-in round.
The Eagles beat Wilsonville 2-0 in September at a tournament in Wilsonville.
The Wildcats finished fifth in the Northwest Oregon Conference with a 7-7 league record and 9-10 overall mark.
The game will be Tuesday at HRV at 6:30 p.m. and the winner will advance to the first round of the state playoffs next weekend.