Friday, November 11, 2011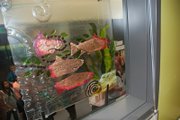 'We have to ask what we can do in the community'
Editor's Note: This is an excerpt of an interview on the subject of suicide, with Susan Gabay of Mosier, whose daughter, Susanna, took her own life. Susan will speak at the Nov. 19 Suicide Prevention meeting in Hood River, 10 a.m. to noon at Providence Hood River Memorial Hospital board room. The event is free and open to the public. Details in the Nov. 12 edition of the Hood River News
"The manner in which Susanna died is personally the worst thing that's ever happened to me; it's a tragic thing; and a good 90 percent of the people who take their own life are in either a diagnosed or undiagnosed state. So, the rest of my life I am committed to trying to get word out to people that depression and mental illness is serious, and that it's a psychological pain that people cannot see.
"Certainly not everyone who is depressed takes their life, nor is everyone who takes their life depressed, but it is such a huge factor that we need to talk about it, and we need to reach out to neighbors, coworkers, children or friends, and not dismiss it as not a possibility.
"Susanna was a good kid; she didn't get stuck in drugs and things like that. She was a brilliant student; but there are risk factors we all need to be aware of that surround the potential for suicide. The community should be aware of the trainings that are available, and the sensitivity that is needed. We can prevent the loss of life prematurely in that regard."
Gabay was asked whether, in some cases, there signs that we can see.
"There's words we learn that when we start thinking about it, that they're a burden to others, people would be 'better off without them,' or 'meeting someone else's standards or expectations'; serious elements of when there's been losses of someone's spouse, people who have failed at getting a promotion, a job - all these factors.
"Maybe in some people's cases they're more resilient, and that's why in these cases we're trying to beef up the mental health of folks; but the fact of it is they're going to miss some clues.
The mental health profession needs to do a better job of communicating the risks and coordinating between families and case management.
"Susanna was hospitalized twice for mental illness, and that's a huge risk factor for actually completing a suicide; and it wasn't on our wavelength. We had signed release forms for Susanna that we shared with doctors, shared the whole background and history; we weren't provided information or resources that would be of support to family or peers so she might not feel alone.
"It's just something that wasn't talked about, and if one out of 10 depressed kids are in that psychological pain and they're contemplating suicide, why wouldn't I as a parent have that information and resources and be aware of that? College students are a huge risk area. Even a signed release didn't help us. There were too many gaps, too little information, and a lot of trust on our part that we had insurance, and we were getting her the attention that was needed.
"But we weren't told how it was important to have immediately after a release from hospital, to have so-many follow-up appointments and to be checking in on a regular basis. You don't want to be a hovering parent - especially on a 21-year-old; especially one who was very competent in her affairs.
"It's something I think we all need to have on our wavelength as a possibility, because of the fact that for all of us, it touches somehow, by some age we have someone we know who has taken their life, and we can't be second-guessing what would we be doing differently.
"We have to ask what we can do in the community so other people don't go untreated."
According to the Oregon Council of Child and Adolescent Psychiatry, parents may be the first to notice when their child begins to show signs of depression. But too often these changes aren't recognized as warning signs until it's too late.
Parents can sometimes mistake a child's change in mood as a case of "the blues," when the child actually has a medical illness called depression. "The blues" only affect a child's mood briefly and will improve after talking with a good listener. Depression will only improve with psychiatric treatment.
The most severe form of depression is a major depressive episode. This is marked by a change in the child's mood lasting at least two weeks, during which she/he becomes depressed, irritable or uninterested in most activities - most of the day, nearly every day.
According to the Oregon Council, a child will experience five or more of the following symptoms nearly every day:
Depressed or irritable mood
Child says, "I hate my life"
Rebellious behavior
Easily irritated
Rarely looks happy
Listens to depressive or violent music or writes with these themes
Starts hanging around other depressed or irritable kids
Wears somber or dark-colored clothing
Frequent crying spells
Loss of interest in activities
Frequently says, "I'm bored"
Withdrawal - spends majority of time alone
Decline in hygiene
Changes to a "more troubled" peer group
Significant changes in appetite or weight
Becomes a picky eater
Snacks frequently and eats when stressed
Quite thin or overweight compared to peers
Psychomotor agitation or slowing
Agitated, always moving around
Moping around
Feelings of worthlessness or excess guilt
Describes self as "bad" or "stupid"
Has no hope for the future
Always trying to please others; perfectionist tendencies
Blames self for causing a divorce or death
Indecisiveness or decreased concentration
Often responds "I don't know"
Takes much longer to get work done
Drops in grades or skips school
Headaches, stomachaches
Poor eye contact
Significant changes in sleeping habits
Takes more than one hour to fall asleep
Wakes up in early morning hours
Sleeps too much
Fatigue or loss of energy
Too tired to work or play
Leaves school exhausted
Too tired to cope with conflict
Recurrent thoughts of death or suicide
"I'm going to kill myself"
Gives away personal possessions
Asks if something might cause a person to die
Wants to join a person in heaven
Actual suicide attempts